Hello everyone,
We've just pushed a new update to our stable channel - v2.14.0. As promised, this version has been released for all Reach devices. New features, previously teased with dev updates, are now available for Reach M+ and Reach RS+ too.
This post will quickly glance over everything that has been added to our receivers over the past two months. You can view my post about dev updates for more detailed descriptions.
Features
Reach will now correct GLONASS inter frequency biases, allowing for GLONASS AR with non-Reach bases, such as NTRIP casters. The general recommendation starting with this version is to always have GLONASS AR set to on.
Beidou processing significantly improved as well.
Beautiful new survey project view. The project view has been reworked from the ground up and is based around the map with all of your collected data.
Fast and pretty Wi-Fi settings tab from Reach M+ and RS+ is now available on all Reach receivers.
The new survey project view: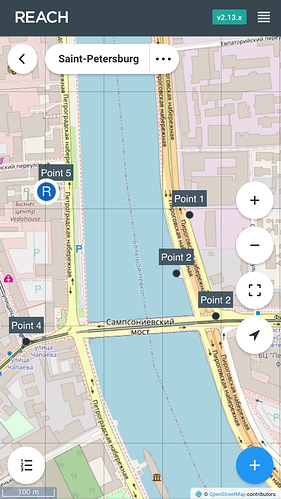 The new Wi-Fi tab: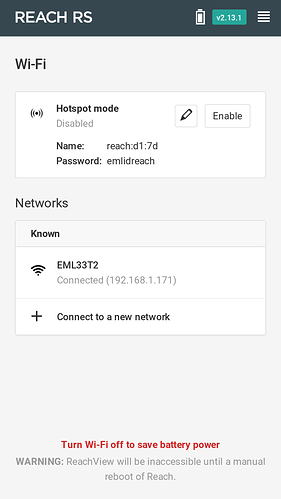 Fixes
Reach will now restart the processing if base position changes during processing
NMEA feedback to NTRIP casters will contain a real solution status, not just single
You are not required to punch in any info when creating a new project, you can just click next
Disconnect dialog has been reworked to be more friendly
Reach will now not reconnect to a different device and will ask you to refresh the page
ERB fixed to include DOPs and number of satellites while the solution is single per @rrr6399 request
Fixed a bug with the battery indicator that would sometimes not show the fully charged battery state
iOS Native app
Our native app for iOS has been updated with great improvements in UI responsiveness. If, for some reason, you have automatic app store updates turned off, I strongly recommend going for this one.
New images in docs
We've updated ReachView image in our reflashing guide to the latest version for all devices. If you need to reflash your Reach, you can flash it to v2.14 directly.
To sum up, this update is jam-packed with improvements in all areas - positioning, UI, performance.
A huge thanks to team for working so hard on all of this. And, of course, to you, helping us with testing and guiding us with your feedback.
Best regards,
Emlid team