First I want to thank Torriem of the Combine Forum for the initial research and Arduino Sketch for the 1008 inject.
A huge thankyou to PotatoFarmer! He helped me understand/learn/utilize the Nano. He also modified Torriem's sketch so that it only utilized the single serial port that a Nano has, skipping the whole softwareserial headache. He has been a big help in answering all my n00b questions.
I also want to thank bide from this forum for his idea of using a Pelican box as a project box. Does anyone make a waterproof case for reach devices? - #10 by Rabun
Now for the project. I wanted to utilize a M2 as a Trimble base station. I needed to take the RTCM from the M2 run it through a Nano that has the 1008 inject so that the Trimble monitor could utilize the data. This worked very well.
I wanted it to have its own power source so I purchased a battery holder case for 10 AA rechargeable batteries (12V/1.2V per battery). Tenergy has a handy smart charger that I added to the system to charge. I put a on/off switch in the power supply and connected the battery output to a buck converter to reduce it to 5.5V which has separate leads to the M2 and the radio. I have the LoRa radio in the box as well in hopes that at some point I can use both the 3DR radio and LoRa simultaneously. I used cabled bulkheads from the GPS and radio outputs. Currently, I have the normal M2 GNSS multiband antenna on top. I have an extension cable but, I am purchasing a SwiftNav antenna later. I will change the bulkhead from SMA to TNC at that point.
I then needed to communicate that data to the Trimble monitor. I initially utilized two 3DR radios for this. I have since changed the base to a RFD900 radio for a higher output for distance in a field.
![FMX_RTK|309x550]
I made a radio box that plugs into the Trimble monitor (FMX for those that are wondering). The radio box consists of a 3DR radio, a TTL to RS232 adapter and a buck converter. With this, the Trimble monitor supplies the power, the buck converter changes it to 5.5V, the TTL to RS232 converts the 3.3V serial signal to 5.5V RS232 which is what the Trimble monitor needed.
Plugged in and working! Looks good too!
(upload://9jPv8g4dbftyekHLxTXj028rJsj.jpeg)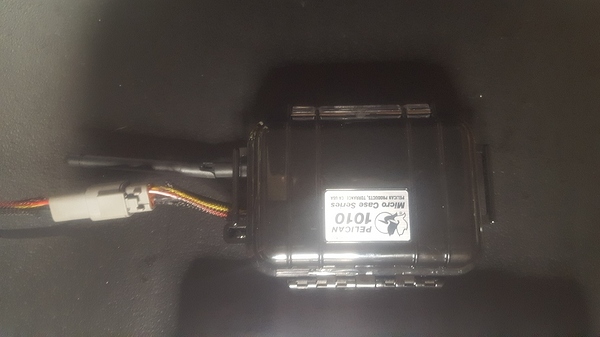 ![radio_interior|600x337]
My next project is attempting to get RTCM out through both the 3DR and LoRA. If I complete that the project after that will be a RTCM to CMR+ converter. Wish me luck.