Hello everyone,
We've just pushed a new dev update - v2.13.0. This update contains huge improvements for our positioning engine, RTKLIB. Starting with this version, Reach can peform GLONASS ambuguity resolution with a non-Reach receiver acting as a base. This will immensely improve both convergence time and fixed solution stability. We've also fixed BeiDou AR, which should give a serious boost to our users in Asia and Australia.
Small note: you may notice that we skipped v2.12.x. From now on versions where the second number is odd, will be considered dev. The next non-dev release will be v2.14.0.
Another small note: Reach M+ and RS+ devices will skip this round of dev updates and will be updated to v2.14.0 directly.
Features
Reach will now correct GLONASS inter frequency biases, allowing for GLONASS AR with non-Reach bases, such as NTRIP casters. Please note, that this version has GLONASS AR fixed to be ON.
BeiDou processing significantly improved
Bug fixes
Reach will now restart the processing if base position changes during processing. That might happen with smart NTRIP casters which automatically provide the closest source of corrections.
Recommendations for using this version
Perform the first initialization in good conditions. While it's a general rule for great results, this version in particular will shine once you let it calibrate the inter channel biases. Once you get your first fix, it will endure conditions tougher than ever before.
Try reducing the elevation mask to about 5. This build will work better with more information, even if the quality is lower.
New features are coming to Reach receivers, so stay tuned

Best regards,
Emlid team
Update 19.07.2018
v2.13.1 is out! It's mostly an under the hood release, bringing things in sync with the RS+ and M+ devices. Among these things is the beautiful new Wi-Fi interface: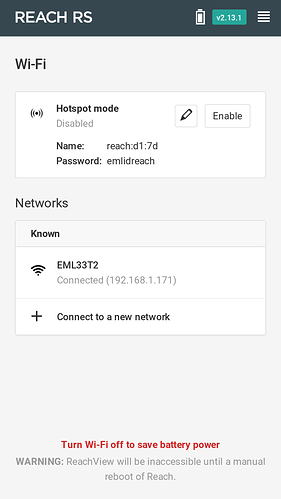 Unfortunately, due to hardware limitations, the Wi-Fi scan feature is only available on the + series devices.
Oh, and we also fixed a bug with the battery indicator that would sometimes not show the fully charged battery state.
Update 02.08.2018
v2.13.2 is out. It's a huge improvement for our survey tab. The project view has been reworked from the ground up and will act as a foundation for new surveying features. All the screens have been given a facelift, too.
Features
New survey project view. Once you open a project, you will see a completely different screen. It is now based around the map, which has all the points and displays the base and the rover. You can still access the point data as a list and access all the point data, though.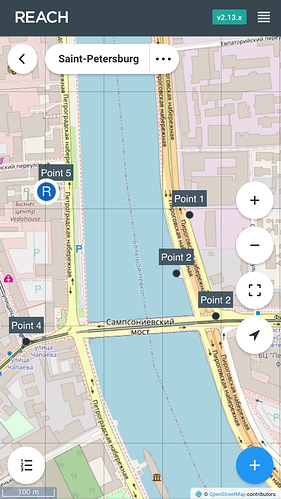 Fixes
The GLONASS AR has been tuned to provide better performance with another Reach acting as a base and to work better in a multipath-heavy environment.
Disconnect dialog has been reworked to be more friendly
Reach will now not reconnect to a different device and will ask you to refresh the page
NMEA feedback to NTRIP casters will contain a valid solution status
You are not required to punch in any info when creating a new project, you can just click next!
Hope you enjoy this update! These features are coming to the + devices soon via the next non-dev update, v2.14.0.
Update 03.08.2018
The new version of iOS ReachView app has been released on the App store. It heavily improves the UI performance.