Today I want to make a guide for absolute beginners to use the NTRIP functionality of Reach. As we know, for RTK to function, real time data must be streamed from a base station to a rover. With the Emlid Reach RS, there are several options for streaming this data, including, bluetooth, serial, local network, and of course, the LoRa radio. The Reach board does not have the LoRa option at this time. There is another option that is also very simple and handy to use for RTK, know as NTRIP. Follow the link for an explanation of NTRIP.
http://lefebure.com/articles/ntrip-caster-setup/
This is a good way to send data over long distances because it's not affected by line of sight or distance. All that's required is a good data connection and two Reach/Reach RS units.Remember, both units must be on a network with data.
A typical scenario would be your base station at the office on the roof connected by wi-fi to your local office. It could just run continually. This could easily be a lower cost Reach board. Then you could have your RS on site with your mobile phone providing the hotspot. With the network settings saved on your Reach RS. It will be only a matter of enabling your hotspot on your phone and then turning your Reach RS on. Reach RS will automatically find your phone and you can begin surveying through Reachview app. Of course, this tends to use more battery power and will use data as well.
Now let's get started.
First, let's look at the settings on the BASE Station. Not all the settings I show in my screenshots are critical and some may be less then ideal. Remember there are many different applications. I am covering one basic scenario.
Base Station Status
Settings to review.
3.Base mode Tab- This is where it happens! This should be ON and NTRIP should be selected.

b )Enter the same info as I do for the first three boxes. Address = www.rtk2go.com, Port = 2101, Password = BETATEST, Mountpoint = Emlidreach (Make up your own but right now I'll make one called Emlidreach)
Now you're done with the base station and can switch to your rover!

Rover
Rover Status Screen


Rover Settings
a )RTK Settings Tab. The most important thing here is that Positioning mode is set to kinematic. The other settings are covered in other posts relating to best settings for fixed solution.


b)Correction Input Tab. This is where the NTRIP data for Rover is contained.Rover settings are as follows.
Address = www.rtk2go.com, Port = 2101, Username can be left blank, Password can be left blank. Mountpoint = Emlidreach (whatever you chose for a mountpoint name on your base station)

That's it! You're finished! You created your own free mountpoint and are now streaming RTCM3 correction data over NTRIP.
Let's look at the Rover Status now to make sure our correction data is actually coming through. The grey bars show that it is! I'm indoors so satellite visibility is terrible but we can see the settings are correct.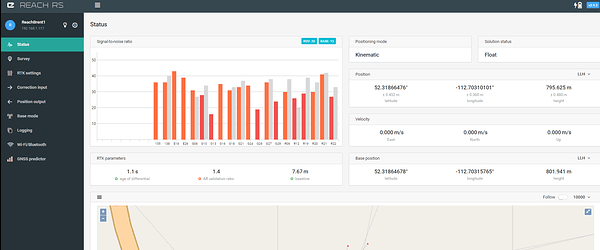 I have found that www.rtk2go seems to experience some down time. I used it because it's free and simple to use. Sometimes on your Correction Input tab you'll see a dropdown menu showing all the mountpoints available. Today it said the list wasn't available. There are other correction services available where you can use either a public or paid service and eliminate the need for your own base station. You can also create your own NTRIP caster, but then your'e probably not an "absolute beginner."

Hope you found this helpful!