Hello friends!
Recently I have assembled a 450mm quad for flight testing Navio+ and APM code. I thought it would be a great idea to share the build with full part list and desription. I hope that this thread will help beginners get in the air faster.
Here is a picture from maiden flight.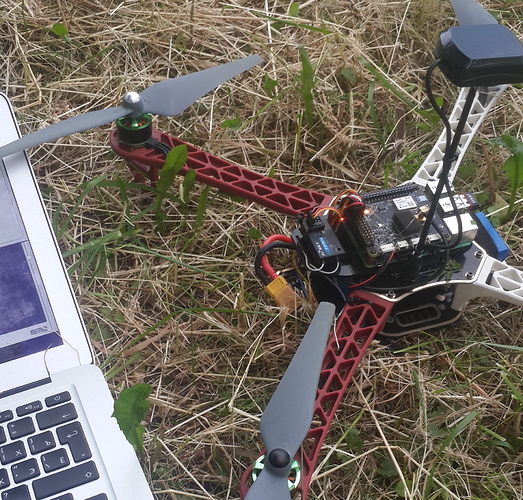 ##Shopping list:##
Q450 Quadcopter Frame 450mm $12.55
Q Brain 4 x 20A ESC $29.92
Multistar 2212 combo, set of 2 2 x $23.99
ZIPPY Flightmax 3000mAh 3S1P 20C 2 x $14.65
Navio+ $168
Power module $24
Raspberry Pi 2 $35
GNSS antenna $12
Zip ties $2.33
Battery strap $2.11
GPS Antenna pole $4.96
Male to male servo leads $1.80
Gyro mounting pad $2.39
Wi-Fi Dongle $5
Total: $335.39
Also a radio and a PPM capable receiver. We will use Futaba T8FG and FRSky TFR4 Rx (about $400), but if you are just starting Taranis ($220) is a very common choice.
##Tools##
Snap knife $0.17
Soldering station $15.99
Solder wire $1.56
Hex screwdriver set $6.99
Wire cutters $1.69
Total tools: $26.4
Here is a list of what you will need to accomplish this build, feel free correct me as I probably missed something. Also, would be great to see simultaneous builds, so hop on

###To be continued…###