Hello guys,
I'm very new to RTK GPS systems and since I'm a marine biologist and neither a topographer nor a geologist, first of all I'd like to apologize for some very trivial requests that I may have in this post. However, I recently bought two Reach Rs+ modules in order to collect Ground Control Points (GCPs) during AUVs surveys, along coastal environments to study elevation differences after storms, debris accumulation, etc. Thus, for my purposes I really need to produce accurate DEMs form SfM photogrammetry and so the use of GCPs is mandatory. I choose this way because I'm not a skilled nerd so direct georeferencing techniques with Reach M+ have scared me because to be honest I really don't know how to connect the camera of my commercial drone (DJI P4ADV) to external systems for geotagging photos.
Anyway, I tried to understand the basics of RTK and PPK by myself by reading the great Emlid Docs. In addition, I have found very useful information in these posts:



Now I would like to summarize what I have understand and I would be grateful to anyone who can confirm or correct my ideas step by step.
It is the moment to better explain my operating scenario. I work in Giglio Island (Tuscany, Italy) and NTRIP services (to get an RTK FIX position of my base) are not free. Also, know points (trig points) to set manually absolute coordinates of base coordinates are quite far from my area of interest (~ 3 km). No so far for Reach LoRa radio connection but quite far to be stolen


So, what I would like to do would be to generate a new know point after PPK to set my base near to my area of research and perform my survey. Of course, I have tried to average base position but as well described in Docs in this way I only know a precise position of objects (e.g. GCPs) relatively to the base station but not their accurate absolute position. So, I think that to have absolute positions of my rover unit during GCPs acquisition I have to know the absolute coordinates of my base. It's true?
After the reading of the aforementioned discussions I believe that I could post-process the raw data acquired from my Reach Rs base with the raw data provided by a Continuously Operating Reference Station (CORS) in order to know the absolute position of my base and then transmit a correct true position to my rover unit (If I'm wrong, stop me!).
Now I try to list the procedure I would like to follow to do this job:
I found this CORS in the Elba Island: http://epncb.oma.be/_networkdata/siteinfo4onestation.php?station=ELBA00ITA
In the EUREF Permanent GNSS Network. It is relatively near to my area (approximately 75 km) so I suppose that I can use it for PPK. This station provide Rinex 3.03 files daily and from this post (Using crx/17d/rnx files (Germany/Austria)) I learned how to covert .crx into .rnx file with RNXCMP software (http://terras.gsi.go.jp/ja/crx2rnx.html).

Enable the raw data logging on my Reach Rs base [I don't know what is better: Ubx format to be converted into Rinex with RTKLIB RTKCONV by following this tutorial: https://docs.emlid.com/reachrs/common/tutorials/gps-post-processing/ or directly Rinex 3.03 files ?]

Place my base on a stable tripod over the point that I would like to become a known point (i.e. with true absolute coordinates to be estimated) and start data logging for at least 6 hours (or more?). I set the base with this RTK settings: Position mode: static; GPS AR mode: continuous; GLONASS AR mode: OFF; Elev. mask: 15°; SNR mask: 35°; Max acc.: 1m/s; GNSS selected: GPS+ GLONASS+GALILEO+SBAS; Update rate: 1Hz. It's ok?
Under the Base mode tab/ Base coordinates: Average Single; Accumulation time: 30 min or less? After averaging my position I'll start the data logging.

Download both Ubx and Rinex files from my base and Elba CORS, respectively. Obviously with the same timespan (Day-month-Year) and send them to my laptop.

Start PPK with RTKLIB (THE HARDEST PART OF THE WORK, I SUPPOSE). I noticed some differences from the settings provided and the tutorial on Emlid website (https://docs.emlid.com/reachrs/common/tutorials/gps-post-processing/) so please help me again to better understand and tell me if others settings are more appropriate for my needs.
Below are the settings that I have hypothesized to be used after reading a very useful post on the forum (Setting up Base- Using CORS data in RTKPOST)
RTKLIB RTKCONV: same as reported in the tutorial
RTKLIB RTKPOST: The following snapshots could help the reading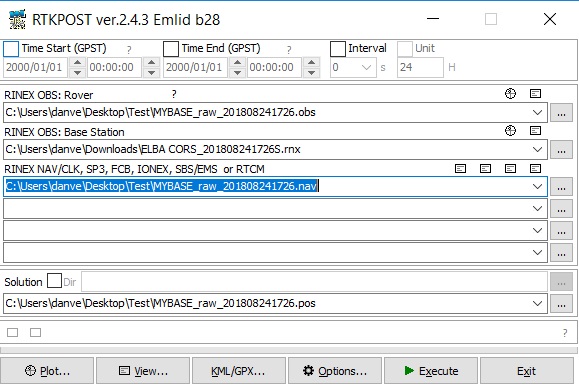 In the first field (RINEX OBS: Rover) I chose MyBASE.obs file because in this case my base should be considered as the rover, is it correct?
In the second field (RINEX OBS: Base station) I chose the .rnx file from the ELBA CORS.
In the third field (RINEX NAV/CLK) I chose MYBASE.nav file.
It makes sense?
I have some questions about the "Options" settings, because the situation does not match the GPS Post-Processing Tutorial and I am a little be confused by "Ionosphere Correction", "Troposphere Correction" and "Satellite Ephemeris".

Maybe Instead of RINEX HEADER POSITION should I set X/Y/Z (m) and add manually the coordinates of Elba station (from here: http://epncb.oma.be/_productsservices/coordinates/crd4station.php?station=ELBA00ITA) ?
Now, I should be able to get a new pos file which it can be displayed in RTKPLOT. But at this point I have to ask again some trivial/stupid questions:
So, if I'll get small errors (e.g. <2cm) can I save these new processed coordinates as the absolute coordinates of my point on the field?
How can I choose these coordinates from the plot? For me also the elevation values are very important so how can I check them from the rtkplot?
Finally, the 1-million-dollar question: if I add manually these coordinates on my base placed over the chosen point (I carefully marked its physical position on the ground in order to reuse it for further survey) can I also have absolute coordinates on my rover unit during GCPs acquisition?
Every word of thanks is little for those who want to spend time answering me.
Massive thanks in advance.
P.s.: I'm already preparing a Christmas basket for TB_RTK

All the best and greetings from Italy,
Daniele