Today, let's take a closer look at the preparations for the survey. If you want to import a project to Emlid Flow, here's what you need to do:
Open Emlid Flow and go to the Survey tab.
Create a project in the same coordinate system as the one you have for import.
Tap Import and choose your file format: CSV, DXF, or Shapefile.
Choose the file for import from your device. On Android, you need to upload the file directly from the internal memory of the mobile device.
You can find more details in the Create or import project guide from our docs.
To ensure proper uploading, double-check that the coordinate system of the file and the created project match. Also, the importing file shouldn't contain any other geometry than points and lines (lines are available under the Survey subscription plan).
Here are a few more things to pay attention to when importing files in the CSV and Shapefile formats: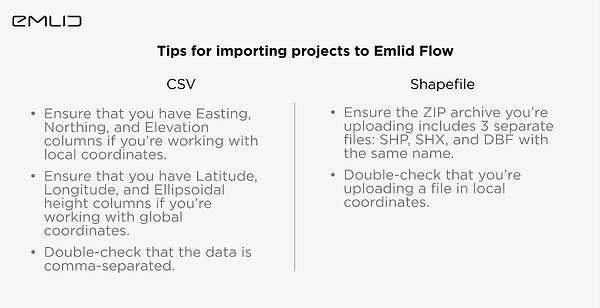 That's it for today! By the way, the Emlid Flow app also has these tips—choose the file format for import, and you'll see a screen with the requirements.
P.S. Don't miss our previous post about connecting to the Reach RS2+ in Emlid Flow.