The guide Connecting to Reach RS2+ shows you how to set up the connection to the receiver in the Emlid Flow app. But what if you can't connect to the unit? In this post, we've put together some tips to help in such a case.
The steps we suggest depend on whether your Reach RS2+ transmits its hotspot or is connected to a Wi-Fi network. To determine this, check the status of the Network LED. If it's solid white, the unit is in hotspot mode. A solid blue LED means that the receiver is connected to Wi-Fi or, in other words, it's in client mode.
Let's get started with the tips: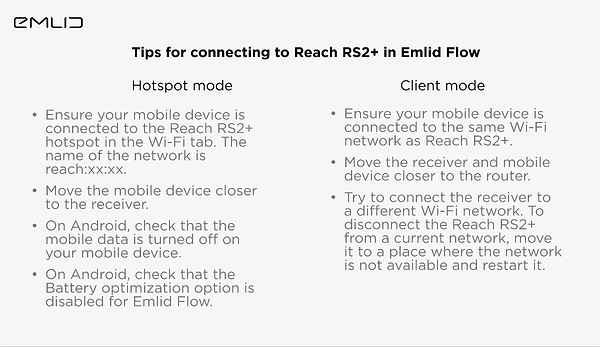 If the issue persists, contact us at support@emlid.com. We'll be happy to help you out.
P.S. Don't miss one of our previous posts on how to get corrections from an NTRIP service with your Reach RS2+.