We have just recently released our new receiver—Reach RX. It's a compact network RTK rover designed to simplify data collection workflow on sites with cellular network coverage. How is it possible? Emlid Flow (formerly known as ReachView 3) uses the Internet connection on your phone or tablet to access NTRIP corrections and send them to Reach RX over Bluetooth. This means you no longer need to spend much time on setup and can start surveying in an instant.
You may still wonder in which use cases Reach RX is the best option and which ones still require the use of Reach RS2+. For your convenience, we made a table with possible use cases for both Reach RX and Reach RS2+: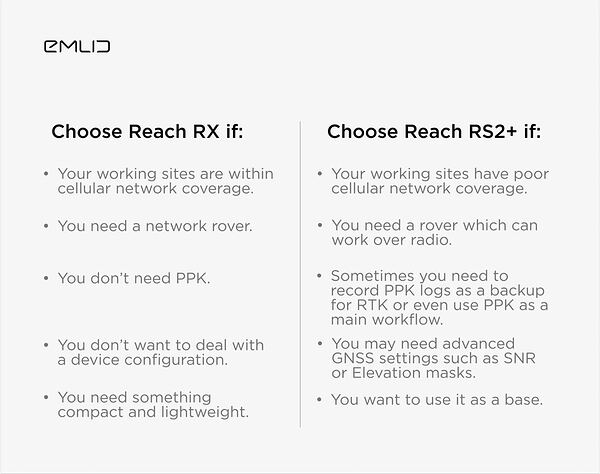 And below is the main receivers' characteristics comparison to make your selection process even easier:
And here is an important note: when we talk about Reach RX and NTRIP, it doesn't mean that it works only with commercial or public NTRIP services. With the help of Emlid NTRIP caster, you can combine Reach RS2+ as a base and Reach RX rover in one setup. And what's more, you can add as many Reach RX rovers as you need and run your own NTRIP service.
So, now it's your turn to make a choice. If you still need help or have questions, feel free to ask in the comments!