That's the point. Thank you for clearifying that.
Hey @egor.fedorov
Why am I getting a "401 Unauthorized" on the connection with the caster?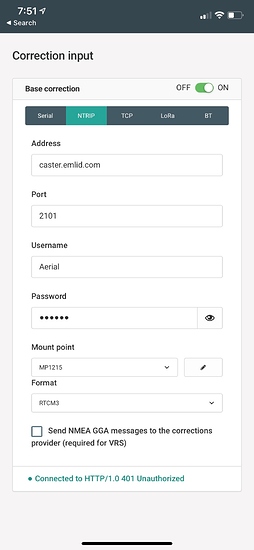 James,
Unauthorized should mean that there is something wrong with the credentials. Please double check you've entered your username and password correctly. Maybe there's something wrong with capitalization?
I was logging in incorrectly, into the "Correction input" instead of the Base mode. Thank you for the help.
I want to report that i have try emlid caster, and it just work nice for me,
I use it with RS 2 last week and also at first time with RS+ couple weeks ago.
EMLID… i love you😂
Thank you for your kind words. We are happy to know the Caster works for you

Hello Egor,
The caster is amazing!
I have a question regarding the use of a Reach receiver to send corrections to a DJI drone (I mentioned it in another post but I am not able to cite it here).
My idea was to use the caster in order to send corrections from a Reach RS+ to a "DJI Phantom 4 RTK" drone. The drone properly connects to the caster as rover but it doesn't correct its position. It simply remains in a single status without seeing any satellite from the base.
So I ask to you: is not possible to do RTK positioning of a double freq. receiver (onboard Phantom 4 RTK) broadcasting corrections from a single freq. receiver (Reach RS+) ?
Marco,
Thank you for the feedback. I am not an expert on DJI equipment, so this is just a guess. It seems very possible that getting only single-frequency corrections will not be enough to start any RTK positioning on the rover side. Do you have access to a dual-frequency receiver?
Yes we do. But, since it is a Leica GMX902, it streams in the proprietary "lb2" format and I didn't found any solution to convert it into RTCM. Neither the STRSVR module from RTKLIB seems to be able to do the trick.
We plan, in future, to have one RS2!
I see now we can have 5 rovers… Nice Thanks

Thats what i call a sneaky surprise

Hey guys,
As some of you already noticed, a new version had been rolled out. We now support:
up to 5 rovers connected at the same time
live stream statuses for both your base and your rover. Very handy during configuration to see if the correction data is flowing.

@davehofer1993 was way too fast. Thanks for the help with release management

Hey everyone,
During the last couple of weeks, we've added two small improvements:
Caster status page. Just some extra transparency on the service's state. On the page there's a small bell icon, that will let you subscribe to warnings about scheduled maintenance downtimes. We don't plan to have those longer than a couple of minutes anytime soon, but still might be useful if you rely on Emlid Caster to do actual work.
You are prompted to agree to the privacy policy of the service.
With that being said, I'm happy to announce the service is coming out of beta. We are extremely satisfied with the service's stability and a growing number of users. The Caster helps our users with their day-to-day work and is a nice addition to the Reach ecosystem.
I would like to thank everybody who participated in the testing, provided feedback, and contacted us directly with ideas. The positive response has been overwhelming. It's a joy to do beta testing of new products with our community.
This topic was automatically closed 182 days after the last reply. New replies are no longer allowed.