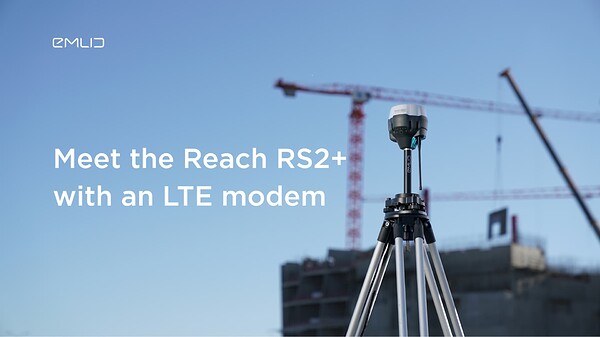 Meet the new Emlid GNSS receiver—the Reach RS2+. It's the evolution of our flagship Reach RS2 receiver. We have developed the Reach RS2+ based on the feedback received from our users over the past few years. The Reach RS2+ has a built-in LTE modem and features a range of design improvements to enhance Reach usability in the field. The Reach RS2+ is available from stock in the Emlid online store or from Emlid dealers in your country.
Stay connected no matter where you go
With the phasing out of 2G and 3G networks across the globe, we are upgrading Reach to ensure high-speed and robust 4G connectivity to a corrections source.
If your country is deprecating 2G and 3G networks (check 2G/3G Network Sunset Dates here), you can still get the most out of RTK surveying with Reach. The new Reach RS2+ comes with a power-efficient LTE modem, ensuring connectivity in all modern networks while staying backward compatible with 3G and 2G.
Our users who survey with LoRa or 2G/3G Internet connections can continue their work with the Reach RS+ and Reach RS2 receivers and do not necessarily need to upgrade their fleet. We will continue to deliver firmware updates and provide full technical support for Reach RS2 and Reach RS+ receivers.
Dual LTE antennas and design improvements
An LTE modem is not the only Reach RS2+ novelty. The receiver features dual diversity LTE antennas for improved cellular reception on the edge of networks or in adverse conditions. Now you can go even further and still maintain a stable connection to NTRIP.
What's more, we have added multiple design improvements to the Reach RS2+. It is now even better protected from shocks and harsh weather conditions.
The best from Reach RS2 receivers
The Reach RS2+ has all the Reach RS2 features. The multi-band receiver gets a fix solution in seconds, using L1/L2 bands on GPS, GLONASS, and BeiDou and L1/E5 on Galileo.
The receiver supports both RTK and PPK modes. RTK corrections between a base and rover are transmitted via LoRa radio or NTRIP. The maximum distance from a base is over 60 km in RTK and 100 km in PPK. Onboard, there are 16 GB of storage for RINEX data logs that are compatible with all PPP services.
The receiver only weighs 950 g and works for up to 22 hours on a single charge. The Reach RS2+ comes with a survey app, ReachView 3, which is available on both Android and iOS.
Get your Reach RS2+ for $2199
The new Reach RS2+ is available in the Emlid online store for $2199 and ships worldwide from our warehouse. You can also buy the Reach RS2+ from official Emlid dealers—find your local dealer here.