I'm setting up a base on a new location (i.e., coordinates are unknown) using CORS data. I logged data for 2 hours at the location and I know what to do with that data. I have downloaded data from a CORS site (in US) from the User Friendly CORS site. Here's a view of what I selected: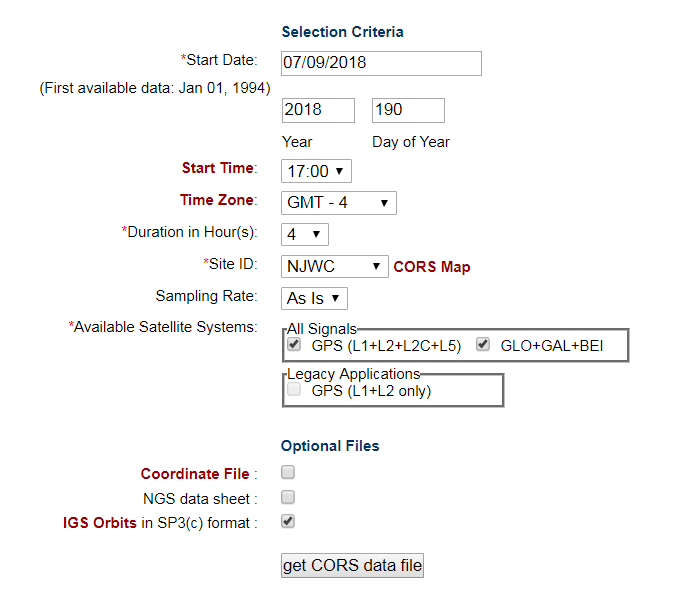 These are the files that I received:


I realize that I need the .sp3 file, but which others do I need?
Heres what the Readme file says about the extensions:
.18o - GNSS code and phase data
.18n - Broadcast GPS orbit information
.18g - Broadcast GLONASS orbit information
.log- current and historical data for CORS site (pretty sure I don't need this one).
The RTKLIB manual is not particularly helpful here.
As a reference, here are my settings: First, I reset to factory settings (I'm fully updated- v. 2.11.0) and only changed the following (not that all broadcasting was turned off).
RTK Settings Tab
Positioning Mode= Single
GPS AR mode= Fix-and-Hold
GLONASS AR mode= On
Elevation Mask= 15
SNR Mask= 35
Max acceleration vertical- 1m/s2
Max acceleration horizontal- 1m/s2
GNSS selected: GPS, GLONASS, GALILEO, SBAS (BEIDOU is grayed out)
Logging Tab.
Raw Data- Rinex 3.03
Position- XYZ
Base correction- OFF
This is what RTKPOST looks like at the moment: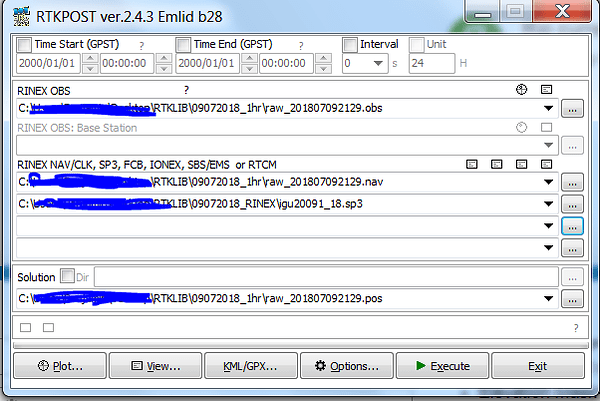 I think that should be everything, but let me know if more information would be helpful.