Ok, just did a test by setting up my base and P4P in my house so I know it will be garbage data, but hopefully I can use it to learn how to use RTKLIB. I'm going to search the forums, but do I need to run RTKPOST first or just RTKLIB? Here it goes…
Running RTKCONV and received E=43. I'm assuming it's an error?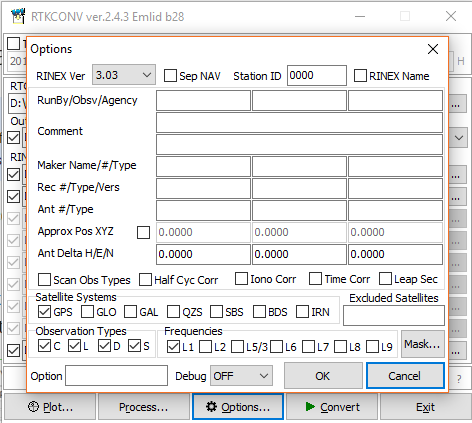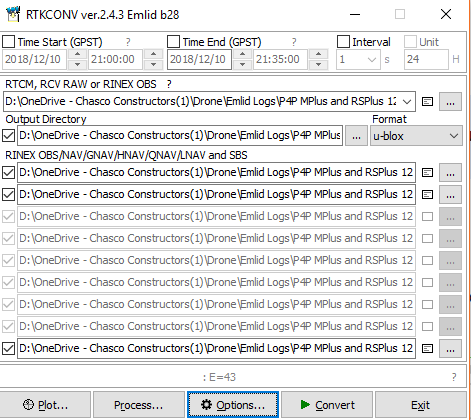 E= Is usually indicating the number of empherasis.
Do you get the one and nav file out?
I do not. No files have been created. Didn't maybe that because I was indoors and have garbage data? I hope to test out on a real site today.
@Brian_Christal, Did you make the black components for the ground plane? Would you consider a design change? I can create a CAD model if that would help. I think I just need to buy us a 3D printer…
@Brian_Christal, Or - I will pay you to make me one? I can model it and am sure I can provide a compatible file type.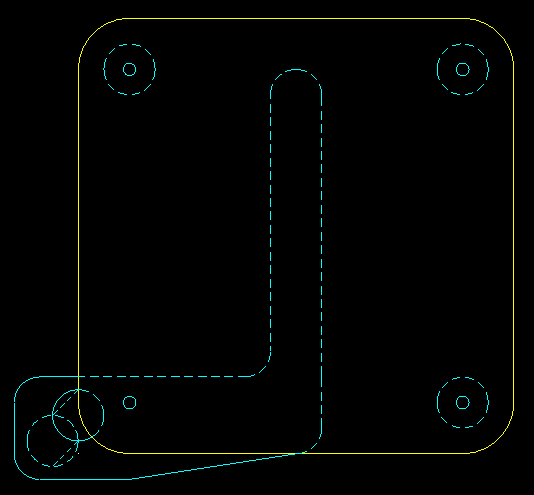 Hi Michael,
Yes I can make the modified ground plane base, but it's futile. There is still a significant timing error with the LED blink, lever-arm error when the phantom takes a picture on corners, as well as camera calibration. The geotag still will not be precisely positioned at the camera sensor. However, the system can provide a precise model as is, but you must mark a GCP by setting the Phantom on a target and taking a picture. A single GCP will get you less than 5 cm error.
Brian
Ok gotcha, but I don't know that is going to matter in my case because I use GCPs. I have to so that I can tie to real ground datum. If I can cut my GCPs by 75% then it is a huge cost savings. Somewhere in the range of $30k/year. It's all in testing. I just need to get the p-p geotags back in the pictures. I understand that this was the problem with the Matrice 210RTK when it came out. I just don't need anything that big.
Hi Michael,
Here is a link to a sample data set. I can go over adding the geotags to the photos.
Hi Ralph,
You bring up an interesting/problematic issue. The ground plane is set at an angle so it's close to level during flight. However this is not good for collecting ground control. Please let me know if you continue to see the error or if leveling the ground plane corrects the error.
Thanks!
Brian
Hello Brian, that's exactly what I'm working on right now. At the weekend I send you the results. Kind regards.
Thanks @Brian_Christal. I am ready to add the geotags to the photos and have tried Geosetter and GeoTag and have not gotten anywhere with either of them. I saw the article on prepping for Pix4D, but I need the new geotags in the photos for DroneDeploy.
Hi Michael,
Sorry, I don't have a way to edit the EXIF data. You'd think there would be an easy solution, but I can't find it. Also, it seems like Drone Deploy does not support adding geotags as a text file. You can use Pix4D Discovery to validate your model: Download PIX4Dmapper software.
Thanks @Brian_Christal. I figured out the GPX problem with the help of @TB_RTK and can now use Geosetter. Very easy.
Great! Do you have a link to documentation that shows how to add geotags with a text file? Thanks!
I have only used the GPX file to this point. Pretty straightforward.
Correct. That is where TB pointed out that the output elevations and time options are not on by default. They are required in Geosetter. I'm crunching on results from several different processing options and their relationships to the GCPs I set so hopefully I can make an intelligent presentation of what I did. I can already tell I will need to do several more before I am comfortable that the options I am using are stable.
This topic was automatically closed 100 days after the last reply. New replies are no longer allowed.