To connect your Reach RS2/RS2+ to the internet and receive corrections from an NTRIP service or update Reach Firmware, you can use a mobile hotspot on your smartphone or tablet. In short, you'll need to go through three main steps:
Get access to your Reach in Emlid Flow.
Configure Wi-Fi connection settings in Emlid Flow.
Access Reach in your Wi-Fi network.
Learn more about them in the Connecting Reach to the Internet via mobile hotspot guide.
During the configuration, double-check you're entering the correct network name and password. And pay special attention to the following tips: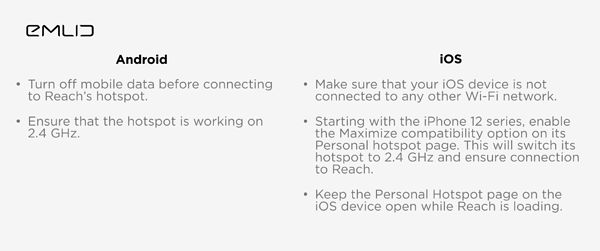 By the way, for Reach RS+, all the steps of connecting to the mobile hotspot are the same.
P.S. Previously, we shared a post on how you can adjust a UBX log for OPUS in Emlid Studio, don't forget to check it!