Still no luck at the moment

Hey everyone,
It's not necessary to download any additional drivers for Edison devices now as the new Flash Tool should be able to handle them. That's why we removed them from our docs.
Regarding the inability to flash the device, Mohd, could you please share the screenshot of your Device Manager when Reach is connected? We'll need to understand how the unit is recognized on your computer.
In my case, which may be isolated, I had gone round and round and round with NO success getting the firmware flash updater to work on the units. The ONLY solution for "me" was to install the Edison drivers.
Otherwise the flasher would just sit there for eternity looking for the Reach RS unit.
*I cannot remember at the moment, but I think I also had to install them as unsigned drivers as a Windows 10 boot up option. There are posts about this by others also doing this with success.
Either way, this is how I got mine to firmware 26.
I think we need to see the Ports (COM & LPT) expanded. When recognized, it should show your unit there.
More reading. Only way I was successful to get flashed to firmware 26. USB-to-PC still does not work though.
This is nightmare.
Been trying all night long to get it to work.
But its still the same.
Maybe emlid need to think how to give support to non IT savvy like me.
Try a different PC / Laptop and different USB connectors. Some have had to try with a external powered USB hub since laptop didn't put out enough power?
Good luck. I know exactly that nightmare too well. I don't think this is dealt with much anymore ever since they changed from Edison to Neutis chip in their products for the better.
Hi Mohd,
Could you please elaborate on what version you Reach RS is at the moment? Are you capable of working with it?
Regarding the Device Manager, as @jp-drain-sol mentioned, it's essential to see how your Ports (COM & LPT) section looks like to understand how the unit is recognized in the system. Please, also elaborate on what PC and what OS version you work with.
We're currently checking what could be the issue here.
Hi Mohd,
I just wanted to tell you that we're working on making the process with Reach Flash Tool easier and more straightforward.
For now, to be able to reflash the unit, I'd suggest doing the following:
Please let us know if it helps.
Hi Mohd,
We've tried to reproduce the issue with our office devices. However, we were able to reflash several Reach Module devices without any issues. So, it seems that we need more info about your device to check the possible root of the issue. Probably, such difficulties aren't related to the Flasher tool.
Could you clarify the current firmware version of your Reach Module?
Still, we're in the process of making the Reach Module reflashing workflow easier.
Hi Svetlana
Its 2.20.8 for now
Olá bom dia , farouk.abd.kader !
Faça a atualização para a versão mais recente utilizando o próprio aplicativo EMLID como mostrado na imagem em anexo, conecte seu receptor e seu notebook na mesma rede wifi, sugiro que utilize seu celular como roteador wifi.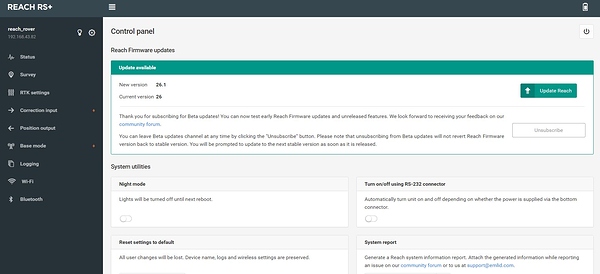 I have had the same problem for 3 weeks and finally got it to work!!!
"Right click" Reach Firmware Flash Tool and select "Run As Administrator"
It was as simple as that!
(If this doesn't work, I can explain what else I did)
Do you know if you can connect your receivers via USB-to-PC (settings in reachview, but connected via USB cables to PC)? Do they show up in device manager as COM port(s).
Thanks.
Hi there,
Sorry for keeping you uninformed for so long. The investigation took us a while. However, we've just released the Flasher v1.7.0 that should fix issues with Reach Module reflashing. Please go through this guide to reflash the device. We'll be glad to receive your feedback.
So no need to install Edison drivers for Windows? Or are they needed?
I'll have to try again later, but wonder if the Windows USB-to-PC works via COM port? i.e. shows up as a COM port via USB cable connection to PC versus a unrecognized device due to no driver.
Hi Tim,
You don't need to install an Edison driver. The Flasher will do it on its own.
I remember the issue with COM-port for Edison-based devices you've reported. We're investigating it additionally, and I'm keeping my eye on it. The new Flasher version may help since it brings Edison drivers. However, I can't be sure about this since it was hard to reproduce this issue with our devices. Still, we'll be glad to receive your feedback regarding this.
This topic was automatically closed 100 days after the last reply. New replies are no longer allowed.