Hey guys! Recently, we released the Emlid Flow app which is a new step for our mobile app previously known as ReachView 3, and it's full of highly requested features!
While all the existing features stay the same as in ReachView 3 for free, the Emlid Flow offers a Survey subscription plan with new pro features. And here is a logical question: should I upgrade or not? Below is an overview of both feature sets: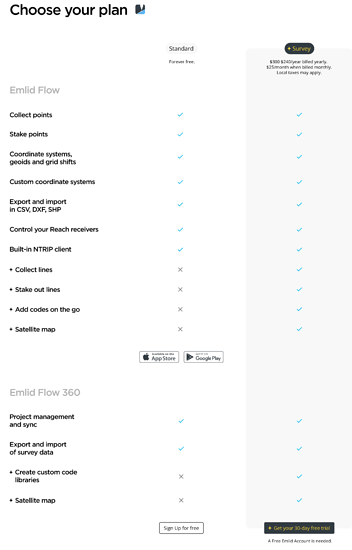 Survey plan
We'll begin with the subscription to the Survey plan that allows you to use advanced features for surveying:
Apply survey codes;
Collect and stake out lines, including staking out with a chainage and offset;
Switch between standard and satellite maps.
These features come in handy in road construction, topographic, cadastral, boundaries, as-built, and many other surveys. You can find more detailed info in the Emlid Flow docs.
As always, more features are on the way. With the Survey subscription plan, you won't miss them—it will include all the upcoming releases without any additional charges.
Standard plan
The Standard plan includes all the features previously available in the ReachView 3 app and is free of charge. This plan will be enough for the surveys when you need to collect points only, for example, if you're placing GCPs. It'll also work well for integrations with 3rd-party devices such as tractors, GPRs, and sonars, which require streaming position from Reach only.
To make a considered decision, it's a good practice to try first. That's why we provide a 30-day free trial for you. Test all the new features and evaluate the benefits they give you to decide for yourself.
You can also share your project goals in the comments, and we will help you choose the right option for your exact case. Have you already happened to try the Survey plan? Can't wait to hear your feedback in the comments!
P.S. Here is our previous post on choosing between PPK and RTK drone mapping. Take a look, if you missed it.