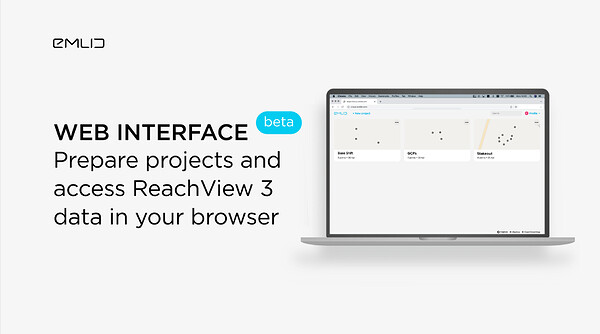 Today we are sharing our new web solution that allows you to create survey projects and access your ReachView 3 data in your browser. This is an early beta release, so we recommend using it for testing, not for real work projects. Try its key features and share your feedback with us.
Access your data wherever you are
The web interface is synchronized with ReachView 3 and provides access to your survey projects from any computer—just open cloud.emlid.com in a browser and log in. No need to use file-sharing apps to export/import data from ReachView 3. Your data is stored securely on servers located in the EU.
Prepare your projects easily
The web solution also features a handy tool for project creation. Now you can use your desktop or laptop to prepare a new survey project. The workflow is the same as in ReachView 3—you may select a coordinate system from the registry or create a custom one.
Simplify your workflow
You can save your time and effort preparing your projects on the desktop before heading to the site. You will also enjoy access to survey data from any of your devices, since you don't need to keep track of what is where. All data is synchronized immediately.
Known issues
This is an early beta, so we do not recommend using it for real work projects. There are a few issues that we are addressing at the moment, though we should warn you about this.
The list of coordinate systems available in the web interface is shorter than in the app. We'll be adding ETRS89- and WGS84-based systems to the web version in the coming weeks. Anything created in ReachView 3 will still sync and work without problems.
Using the Safari browser, including iOS Safari, may be less robust. We are also working on that.
How to start
To check the web interface, go to cloud.emlid.com and sign in with your Emlid account used in ReachView 3. The intuitive interface helps you navigate easily and get to your job right away.
As usual, we will be happy if you try our new web solution, and we look forward to your feedback!