It is necessary to provide following information to get help:
Firmware V1.2
ReachView version: v0.4.9
I have Rover reach connected to Serial4/5 on Pixhawk that also has 3DR radio connected via 6 pin connection to telemetry. Base is connected to the matching 3DR radio via provided OTG USB. They link up and it looks like they are communicating since the red LEDs are both blinking.
I connect my PC to base reach and open mission planner. Without connecting the main Mission Planner app, I open the ctrl/F menu and hit Inject GPS. I put in reach:97:8a (base) and 5000 for the port and I get the following error message: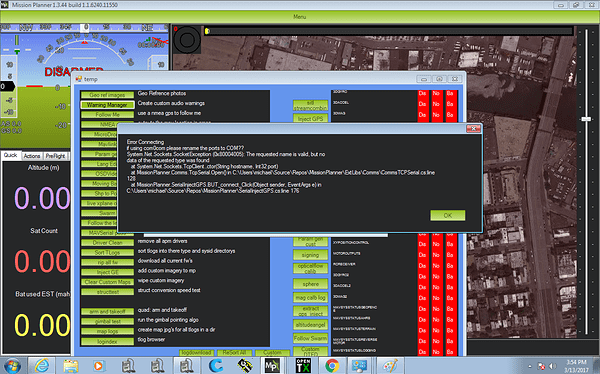 It looks like the connection is established, but there is no data. Is that the case?
How can I troubleshoot from here?
I am generally not sure how to set up the GCS with WiFi base and find out if there is communication happening.
THANKS!