Hi, so I am trying to figure out how to send a custom Mavlink message from my Raspberry Pi (which has the Navio2 attached) to my PC. I've searched Google for quite a while and did not find many results relevant to my problem, as 90% of the results I found were about sending a custom Mavlink message from a Ground Control PC to an Ardupilot device (I wish to send a custom Mavlink message in the opposite direction).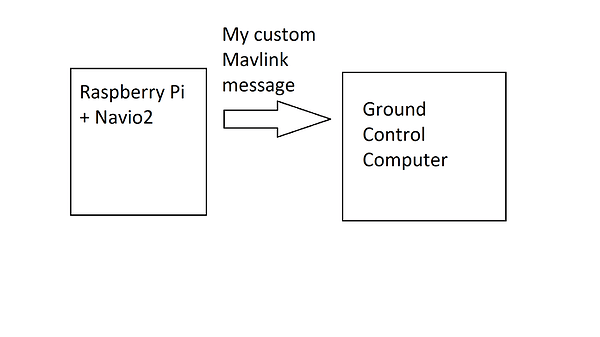 The official Ardupilot documentation site has an article about creating a custom Mavlink message, but the vague example they included was for sending a message from PC to Ardupilot. Plus, for Step 5, they mention extending AP_Mission's library, but I could not find where AP_Mission or any of the other Ardupilot source files are located in the Navio2's Raspberry Pi.
I only found 1 relevant result that matches my situation: https://github.com/mavlink/mavros/issues/574
However, the guy in the GitHub issue post above includes a line of code that includes mavlink::groupcontrol::msg::GROUP_PARAMS, which I could not find any documentation about online.
So I was wondering if one of the Emlid developers or anyone else here in the forums knows how to send a custom Mavlink message from Navio2 to PC. I would rather not resort to wasting another USB port just for sending my custom data as a non-Mavlink message.
PS. I find it unusual how there were not many results on Google about sending custom Mavlink messages from Ardupilot to a ground station. Do most people using the Navio2 not care about sending some kind of custom data from their Navio2 to their ground station PC?