Hello! How can i see the .pos file obtained from rtk lib on google earth? Thanks in advance!
Also, how can i transform the pos file in a dxf file?
There is a button to export a KML or GPX file which is a recording of the track and waypoints. Both can be imported into Google Earth.
Do you mean transform the coordinates in CAD or convert the POS data into a DXF?
Hi SAM,
Just follow this screenshot below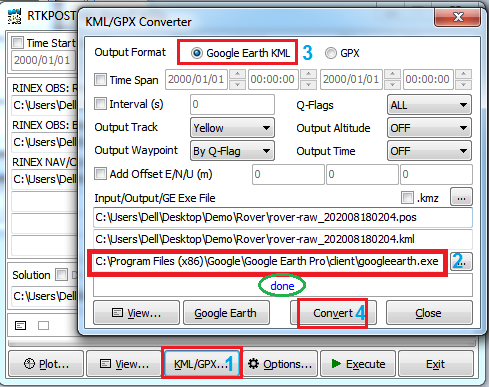 The pos data in a dxf file would be wonderful. To be more accurate i think i need to obtain the coordinates, and then trasform them in my system coordinates.
You can find a lot of converters in the net the easy way is to transform Lat/Lon/Ellip Height to XYZ in UTM format.
Maybe this site can help you to transform directly online :
This topic was automatically closed 100 days after the last reply. New replies are no longer allowed.