What message shall go via Ntrip from Ublox F9P to Emlid NTRIP and the RS2 ,to see base sats?
You could view the data with either the trial version or free version of SNIP. At least that way you will know what messages are being sent from your base.
Do you have any link to see those data?
Use either the free version or trial.
I try to start using Emlid NTRIP, with my Ublox F9P as base! I get contact to Emlid on 159.xxx…/ MP1771, but get no sats in my RS2.
I wonder what Emlid get from my Ublox F9P via internet!
Do you have Single solution when you see this behavior?
Yes, only Single position
Hi Jan-Olov,
Please double-check that the Ublox base is connected to the Internet. You can also check if the base correction log is recorded on the Reach RS2 receiver to see if any corrections are transmitted.
Hi Jan-Olov,
Please double-check that your base station is sending the corrections to the same Mount Point that your Reach is connected to.
If you're using the NTRIP caster to receive the corrections, you don't need to specify Reach's IP in the network. You can check out this guide on how to work with NTRIP.
To check the receiver's IP, you can open the list of available devices in the ReachView app on the device that's connected to the same network as Reach.
What shall Ntrip data from Ublox F9P to Emlid server looks like to be accepted and forwarded to the RS2 reciever?
Hi Jan-Olov,
The minimal messages that Reach RS2 should receive from the base are the ARP station coordinates (1006) and GPS observables (for example, 1074) messages.
Thank ou for ansver!
Today I made the RS2 as a base station and the Ublox F9P as a rover and that worked, as done before with Swedish Swepos RTK korrections. But I did not find where to put in Fixed Coordinats in RS2 Base settings!
Now I have to figure out, why it does not work the other way!
Jan-Olov,
You can enter the base position manually to the Base coordinates section of the Base mode tab in the ReachView 3 app. I'll attach the screenshots below.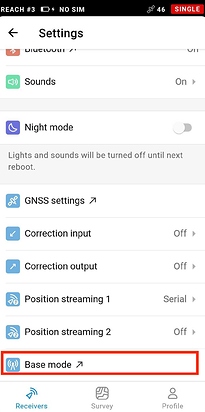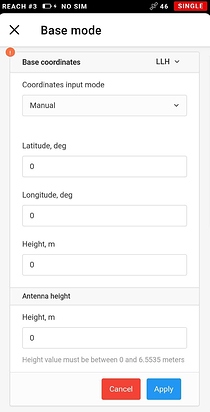 Please specify the RTCM3 messages you sent from your U-blox receiver to Reach RS2.
I followed U-center 8.26
Picked F5-05 RTCM3.2 1005 Uart1/Usb on
Then RTCM1077, 1087, 1127 and 1097 selected and SEND.
In TMODE3 Fixed coordinat selected.
Such messages seem to be okay for the receiver to calculate the solution. Please double-check that you correctly set your U-blox receiver as a base in U-center (through the NTRIP server/caster settings).
It started just now, with 35 sats in RS2 and 32 base sats from Ublox F9P!
It was ver good!
Great to hear everything works for you!
This topic was automatically closed 100 days after the last reply. New replies are no longer allowed.