Hello everyone!
It's been about 1.5 month since the last major update, and we are back to show you what we've been working on this summer. Apart from the LEDs, RINEX logging and various RTKLIB improvements, all of which found their way onto your receivers during these three months, there was another little project in development.
One of the things that concerned us most with Reach user experience is the part where you need to find the devices in your local network. While there are several ways through this step, none of them are perfect. So, we decided to focus on solving that particular issue. The outcome is our first native mobile app, simply called ReachView. This is how it looks: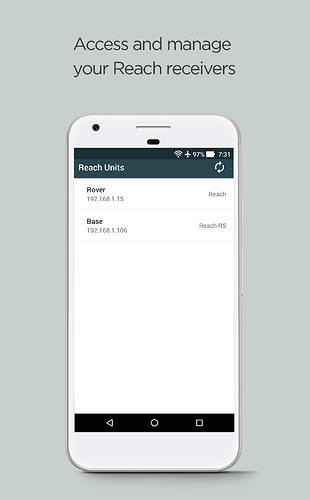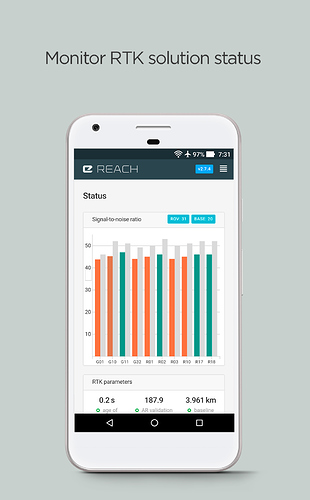 With this, you can easily access receivers without the need for fing and the like, without the need to switch to your browser and type up the addresses. The app is pretty straightforward and it should become the default way we interact with both Reach and Reach RS in the nearest future.
The app is available now on Google play as an open beta for phones and tablets. It is also coming for iOS and should be available by the next month, as putting an app on the App Store requires some more hassle.
To use the app you need to update your Reach to the latest v2.8.0, which is a really small update by our standards. Here are the details nonetheless:
Features
Add a service to advertise the receivers, so that they are recognizable by the native app
Bug fixes
RCH-745 - Surveying projects data isn't synced to disk, which sometimes results in data loss
RCH-749 - Antenna height resolution in point collection is limited to two decimals instead of three
As usual, a big thanks to our engineers and beta-testers, especially @TB_RTK. I hope you like the new app and use it extensively. Feel free to provide feedback here or via the Google Play review system.
Best regards,
Emlid team
TL;DR
We now have a native app for Android, use it.