Hello everyone!
We've just pushed ReachView v2.16.0 to all of our receivers! This huge update introduces one of the most awaited surveying features to our app - point stakeout. Apart from that, Reach RS+ gets the option to boot on power automatically and Reach M+ receivers now officially support LoRa radios. The plug and play accessory is already available in our store

.
Like all of our recent releases, this one is based on a series of updates distributed through the dev channel. I will go through most of the changes here, but more detailed information can be found in the original thread for v2.15.x updates. We've had an amazing response from you guys and really appreciate the feedback and the support. Thank you!
Features
Point stakeout. Any point you have in your project now has the stakeout button active. Keep in mind that the accuracy threshold is frozen at 2.5 cm, but the distance is always reported in real time. I'll let the screenshots do the rest of explaining:
Smart antenna/pole height. You don't need to think about the actual antenna height anymore. Just enter the pole height and choose whether you use the thread adapter.
Geodata import in CSV, GeoJSON, DXF. Import projects for staking them out with Reach. You can either upload the file the normal way or paste the data as text, which is really convenient to do from a phone. Note that geometry support is limited to points.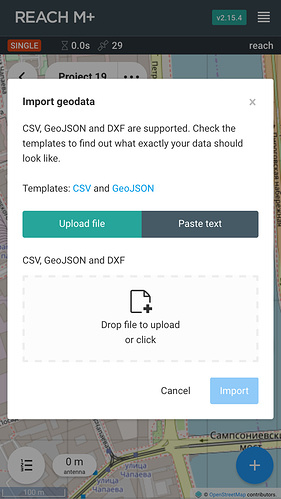 LoRa support for Reach M+. The correction input and base corrections tabs now have LoRa as an option. It will be blocked until you actually plug one in. However, you don't need to worry about turning LoRa off in the configuration before disconnecting it. The system will handle this just fine.
Automatic boot using the bottom connector on Reach RS+. One of the major new hardware features for Reach RS+ was support for this. Perfect for integrating the receiver with cars or tractors. Also, the settings tab now offers a special dialog to configure whether you want it to actually happen.
Fixes
Bluetooth connection unstable for some Android and Windows devices
Onboard RINEX logs had some observations missing(compared to manually converted raw logs)
Default trail length reduced on the status tab to avoid performance issues
Prevent user from opening the projects twice
Thanks to everyone who helped with the testing and participated in the dev updates! Another round of dev updates is right around the corner, so stay tuned

Best regards,
Emlid team
Update 15.10.18
v2.16.1 has just been pushed with some major platform stability improvements. This update is recommended for all Reach users.
Update 29.12.2018
v2.16.2 update is out. It contains a list of small, but valuable improvements and fixes, which include:
Ability to change Reach name when in hotspot. The effect will take place after a reboot.
Reach will now handle weird Wi-Fi names in a more stable fashion
Deprecated several obsolete RTCM3 messages in base mode
Added LoRa frequency limitation for Russia
Fixed GeoJSON template not being available for download
Antenna height dialog will no longer show NaN when the input field is empty
Fixed base mode's manual position verification acting funky in some cases
Wi-Fi connection improvements. You can now connect Reach to your phone's hotspot easier.

Connection timeout increased to 30 seconds when connecting manually
Connecting to hidden/non-existent networks is now allowed
So now you can make Reach connect to a phone's hotspot that's off at the moment, and only then enable it with no rush.
We hope these improvements will make your life with Reach a little more pleasant. Happy holidays, and stay tuned