I completed a PPK survey the other week with a single RS2 rover. Base station data was pulled from a nearby NRCan station (7km away). I completed the PPK using RTKPost (demo5 b31). In the field we were surveying in support of a seismic survey, so collecting points in ReachView Survey (latest version), using about 20 - 30 seconds time on each point (single, no RTK) and exported everything to CSV. Logged Rinex3.03 directly in the RS2 for PPK. Now when trying to use the CSV of survey points from ReachView to parse out the correct location from the PPK result I'm seeing a mis-alignment.
For parsing I'm using the UTC time, by converting to total seconds in the day, to align the proper station label (from CSV) to the correct geographic location from the PPK results. However I'm noticing a 1 - 3 minute time difference in the time reported in ReachView Survey and the time reported in the PPK log. I made sure that I didn't accidentally post process using GPST. See attached: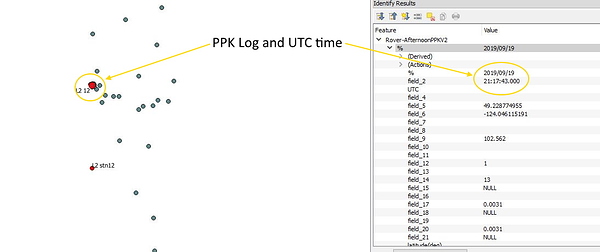 Has anyone encountered this problem before? This seems like a very large time mis-alignment.