Now someone is getting it.
Everything you just said contradicts what was being stated. Accuracy in the order of 5-7cm is believable, but the point is that somehow they are allowed to advertise on this forum and advertising accuracies shouldn't be allowed. My last comment was to mention how this is becoming illegal in some places.
If you need hight accuracy you have to fly lower. What accuracy do you need?
I use the Ashot and do not use the full Teokit. I have well over 1,000 maps and we get the accuracy we need - even without their products. I think you need to read back a few posts because you are missing the point.
The main feature of photogrammetry is that you can get any accuracy by changing the distance to the object. And this accuracy will be absolute. It can be checked by the ground control measurements. Are you disagree?
This is not what was being discussed so I have no opinion on what you said before, but for this statement -
If by "feature" you mean variable then you are correct and it should be obvious to everyone who has ever mapped with a drone or used a camera that proximity to subject affects resolution.
What accuracy? Photogrammetry by definition is not an absolute. It is an art and/or science where everything is constructed by relativity. The only absolute is taking the finished product, sampling values and going to the ground to verify those values. This can be done beforehand with checkpoints as well, but you are limited to those few points. The Ground Control Points are used solely for the calculations of the algorithm and should be perfect at each point so they are not checkpoints.
Furthermore, relative accuracy is the relativity of the photos positioning to a corrected state and how all the photos work together. If GNSS hardware were accurate enough, the resolution on the camera were high enough and the photogrammetric algorithm perfect enough then you could achieve good enough relative accuracy to diminish the need for GCP's and be able to do a single-point calibration, but none of those factors are currently possible and definitely not on a Phantom 4 Pro.
You always can make some extra gcp for difficult places for being sure in accuracy.
Glad to take this discussion another direction. The other was getting quite monotonous.
I agree! For what we do and most people who are attempting to map to absolute accuracies GCP's and Checkpoints are MANDATORY. Another tip is that when surveying highly undulating terrain that GCP's should be put at the tops and bottoms of all grade breaks.
Let's imagine what kind of test we could possibily do to tie up loose ends.
You are definitely right. There must be gcp on the highest and on lowest places. We always do that. And this is the guarantee accuracy which we talk about
We have all done a ton of testing and I am sure that our accuracies are indicative of how we have conducted our tests. Therein lies our first problem. There is no absolute standard. I am sure you don't use the same GNSS hardware, GCP's and software that I do. You probably have a different use-case as well.
We then think of photogrammetry software. You can run the same images through the same software 10 times and will be lucky to maintain a 2% factor of error across all those maps. After close to 100 test flights I have accepted the fact that my absolute accuracy with PPK/RTK assist without GCP's is at best certifiable to 5cm. I have seen less, but that is on very small sites and as sites grow so does the error as it does with GNSS use. This also happens as projects become more linear as with corridors or roadways.
The base test I use for control at our facility is a 50ac site with 13 monuments all located with the use of a robotic total station and level-looped for vertical accuracy afterwards. There were also 8 checkpoints in between for use when the initial monuments were used as GCP's. The site was flown with 2 different flight patterns (nadir and oblique crosshatch) each pattern being flown at 3 different altitudes and images were uploaded each individually and in combination with the other flights. I.E. nadir-only, oblique-only and nadir w/ oblique. There were a total of 30 maps submitted. 27 without GCP's at 100/200/300ft and 3 (combination) with GCP's at 200ft since this is our default altitude. All flights were done with a P4P with Emlid RS+ base, M+ receiver and Ashot trigger capture.
Here's the kicker. The processing was done on 3 different photogrammetry platforms so there were a total of 90 maps processed for this one test site. The softwares included Pix4D, Metashape and DroneDeploy. They all have their Pros and Cons, but our default is DroneDeploy because we find that it is a nice balance of speed, accuracy and collaboration features.
That said it became apparent quickly that GCP's with oblique imagery was not a good idea. Obliques make great 3D models in structures, but they do not work well for terrain. What we assumed was proven true. The lowest altitude (100ft) nadir-only flight was the most accurate for the purposes of our testing and we averaged 3cm across all monuments and checkpoints. When we used the monuments as GCP's our checkpoints went down to 0.6cm. Obviously this is not efficiently obtainable in a corporate setting which is why we settle for a benchmark of 200ft +/- 50ft depending on the need and site characteristics. For what we do 300ft is out of the question unless we purely just need a map for logistics. At 300ft we had 7cm and 4cm with GCP's.
We have the same accuracy 5-7cm from 510ft. Maybe your gnss gives you bigger mistake because it was fixed incorrectly. Also your base station ReachRS might give you hight-noisy gnss-mesurements. ReachRS is not the best receiver for base.
Nope. All GNSS usage was PPK. How did you set your control points? With the same GNSS you used to collect the drone data? Probably not the best test. Our points were located within 1-2 millimeters using non-GNSS survey equipment.
I see the Teokit as a potential time-saver. Can you make tests that would illustrate that?
I would recommend the following:
Project of more than 1000 images.
Same images used for processing for both projects.
GCP only
Single solution for drone shots (to simulate non-ppk drone)
Number of GCP's: 3-4 per 100 images, at least 20 check points
GCP+PPK:
Number of GCP's: 3-4 per 100 images, at least 20 check points
Fixed solution for PPK
PPK with max 5 GCP only (corners.
5 GCP (corners + center), at least 20 check points.
Fixed solution for PPK
1,000 is probably pretty fair, but that will depend on the overlaps used and size of site. Our 50ac site was 3,000 images at 100ft and near 800 at 200ft. 80% front and 75% side overlaps.
I have been meaning to ask… Do you have a sample Teobox report that you can share? Where's the best tutorial? I don't necessarily care about the validity of the data, just curious as to what factors it uses. Do you use 1.5.7 or 1.5.9?
It is indeed dependent upon the overlap, but the overlap you mention is pretty standard, so it still goes.
Another way of putting it into context is to look at the mean number of projections for the GCP's.
It should be around 25 projections per GCP to achieve X/Y accuracy <= GSD and Z-accuracy <= 1.5 x GSD.
So for 3000 images, that's a heck of a lot of targets

That's without PPK right? I use to use the standard no more than 700-750ft between GCP's without PPK and now can stretch that to about 1200ft with PPK pretty comfortably to maintain the same results. Major difference being that our spec is 9-12 overlapping images per pixel. Sounds like you might be on a different scale so I wonder how they relate to each other?
Yep!
I can try an plot the 50 ac area in an excel sheet I have created for planning. What is the X and Y dimensions of the site?
Yep! I use this: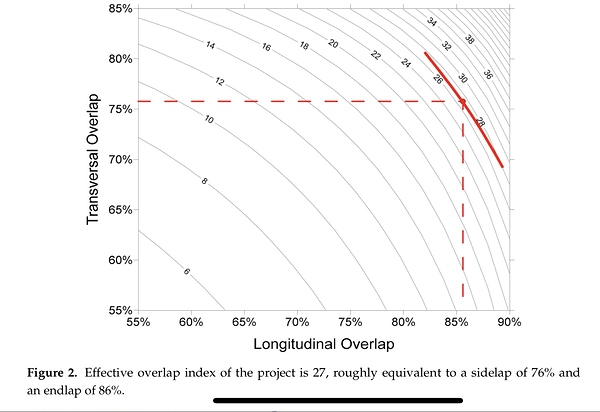 The site is right at about 1425ft x 1500ft.