Thank god I haven't installed mine yet. Put me on the list for the replacement.
Yes, no problem.
On Monday we will replace capacitor on the board and I will write here about this.
Each board tested well before shipping.
But this issue is defective capacitor.
We will replace it and test on Monday. We received new capacitors from provider.
Hi everybody.
We replaced defective capacitors.
Dont worry, all AShot boards are tested before shipping.
And so sorry for burned out incident.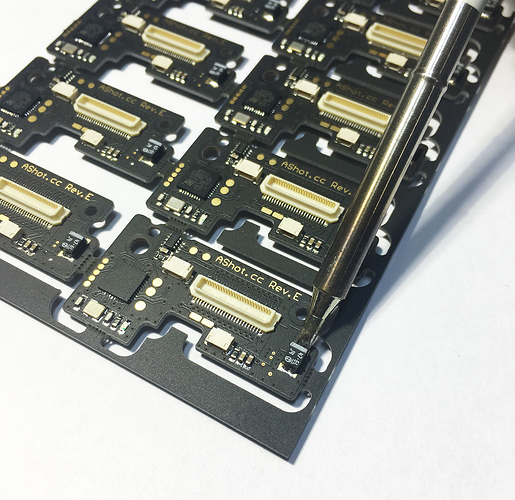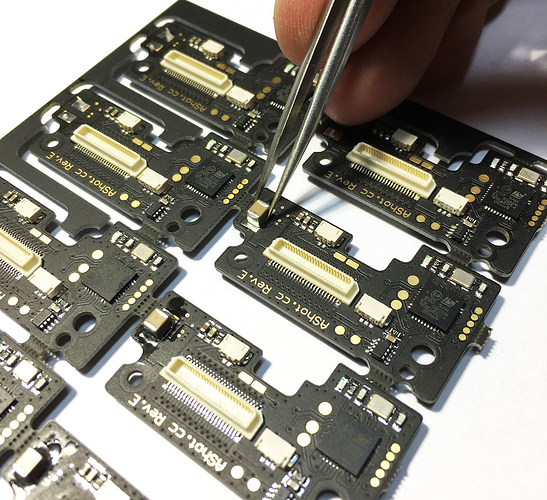 Thanks Konstantin,
Is the replacement capacitor still the same rating as the original or was sizing a problem? Are the new capacitor ceramic?
Hi.
New capacitor is Ceramic. 47 mF by Murata manufacture - high quality.
Old capacitor was Tantal.
Size is the same.
Ashot test #2.
I was satisfied with @VanavaraDigital explanation about the last ashot component failure, and trusted that it was resolved. So I did give the new ashot board a try that was express posted to me. I installed the components, plugged it in to the Reach M+ and ran an initial comparison to the blinking phantom LED. I took about 230 photos with exposures from 1/200s to 1/1000s. The average offset between ashot time mark and LED-on was 0.197ms. This is about the same time delay that I and others have determined through, no doubt, the same method, give or take a few m/s depending on antenna placement, flying speed etc. Offset values ranged from 0.164ms to 0.246ms. The timing offset had a standard deviation of 0.017ms which is within a few ms of what I had settled on. First test passed.
Next day I flew a site 80m AGL at about 5m/s and processed it through Agisoft Photoscan. Using an uncorrected LED blink at this speed I would see residuals of around a metre in the direction of flight. Corrected LED blink would show about 0.1m residuals, with some up to 0.3m. My ashot timestamp flight showed residuals of 25mm in the direction of flight. Using this as a proxy for timing accuracy, it would seem that the timing is, at least, accurate to 5 milliseconds. I am processing photos that are 1/200s exposure time so I don't think I could make this test any more precise. I will be interested to see if things can be more precise with the crisper photos that will come at a sunnier time of year. My only GCP check was 20mm Hz and 45mm V allowing focal length to be solved for. This in not how I normally do things.
Well done @VanavaraDigital; It seems that ashot does exactly what it is advertised to do. It seems to deliver mid-exposure timestamps and supplies the reach M+ unit with a smooth enough 5v supply for proper operation.
Now after testing their hardware, if I was in the market, I think I would purchase a Teodrone in preference to a DJI RTK, given the not insignificant price difference. Please note, I was pretty pissed-off after the first ashot spat sparks at me. So if I felt the product was no good I would say so.
Note to anyone else doing their own install: When I disassemble things, if I see colour on the threads of a bolt/screw then I reassemble it with a matching colour of loctite. I thought I saw blue on the threads of the gimbal screws. I learnt the hard way, whatever I saw THIS WAS NOT BLUE LOCTITE. At least, if it was, it was not used wet at install. It will destroy your DJI lower shell screw holes; split every single one of them. This was a $100 lesson I would be happy not to have learnt.
Thanks for the feedback. Though I don't think they are (yet) offering the Teodrone that I can see.
Hi Dave,
i didn't read through the translation of teodrone.ru super thoroughly, but it appeared to be for sale there.
Thanks, It does list for sale at that link. I had asked Konstantin to email me when it was available and didn't hear anything. Maybe not available to ship internationally or maybe he's just very busy.
Where can the A-Shot be purchased? The only website i know of says out of stock…
We are busy so much this month (((
We preparing for mass production our new project: Teokit - easy and cheap way for make DJI Phantom 4 Pro PPK solution.
Teokit will allow you to convert your DJI Ph4 adv or pro to a geodesic Teodrone.
Teokit is:
Emlid Reach M+
AShot
Teoboard
Spiral antenna
Cables
Price for Teokit is 1080 USD.
Please wait few days, soon I will write more info.
This is prototype of Teoboard:
It is in stock - please buy it at vanavara digital shop.
Thanks.
Hi everybody.
We start mass production of Teokit. Soon it will be available for Preorder with discount)
Quality of SNR is the best!
Please see screenshots: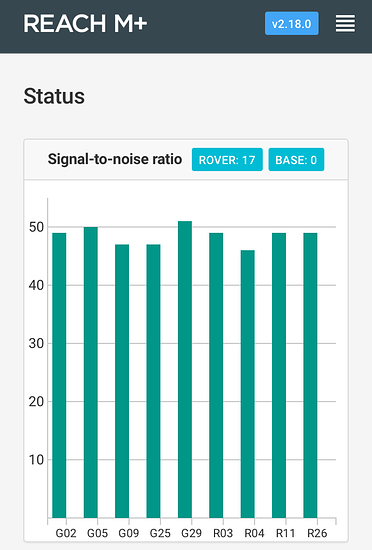 This test setup was:
Teoboard Rev.C
AShot Rev.E
Spiral Antenna TopGNSS AN-301
Emlid Reach M+
Let's wait and see videos and manual of how easy it is to install your solution in the drone.
Yep, photo manual is preparing now. Video will later.
While we are waiting for parts for mass production, our Teokit fly every day.
You can see OBS file from Reach M+ and Teoboard Rev.C with Spiral antenna on our DJI Phantom 4 adv Teodrone.
For precision Timemarks we use AShot board of course )
OBS_sample_Teoboard_rev_C.zip (1.0 MB)