I have had quite the troubles setting up these modules for the last little while, reflashing firmware until I figured out what I was doing wrong. Now that I have it configured correctly, I assume…
I have the base set up in the back yard, and rover in the front. From the ReachViewApp for the Rover, the mode is Kinematic, and the status alternates from ' single ' to ' - ' now on single quite reliably. The state will not move into float or fixed. I cannot see any reason for why this would be as I have followed the quickstart tutorial closely.
Rover lights: White, Blue, Blue, Green, Light Blue
Base lights: White, Blue, Pink/Purple, Green
It may be of help as well if there were a location where we could see what all the light sequences mean as well.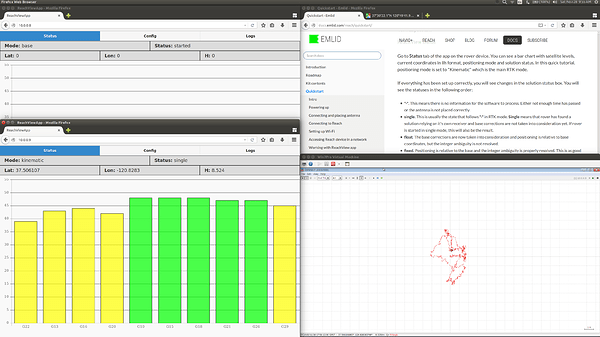 Thanks in advance,
Weston