Hi everyone,
I am using the NAVIO2 on the Raspberry Pi 3 Model B.
I am using the Raspbian Stretch image from EMLID and ArduPlane 3.8
Issue Description
The NAVIO2 and Raspberry Pi reboot when control surfaces are moved too much or too frequently.
Setup
I have 2 standard metal gear digital servos attached to each aileron/flap and two micro metal gear analog servos attached to the two Vtails. Also I have a 1100KV brushless motor (but the motor is not connected to the ESC for the purposes of this issue).
I am using a 2S 25 C Lipo capable of 12800 mAh.
I am also using the EMLID power module (There are separate issues with the power module where it is not able to display current or battery percentage. It displays the voltage that too almost 1V less than what the multimeter shows me).
I am using a 65 A ESC (4A 5.2V UBEC).
Lastly, I do not have a Tx/Rx controller therefore I am using WiFi for setup and then Joystick over WiFi to test the control surfaces.
In addition I have the RFD900u modems for telemetry and flight control.
Steps to create the issue
I have plugged in the left aileron on servo 1, right aileron on servo 5, left and right vtails on servos 2 and 4 respectively and throttle and BEC input on servo output 3.
I have disabled Arduplane to start automatically on boot to enable me to know when the NAVIO2 reboots.
On entering sudo ardupilot -A udp:192.168.1.x:14550 I am presented with the following screen.

Then if I go over to Mission Planner and connect over UDP, everything starts up.
I switch to manual mode and enable joystick (connected to my GCS PC over USB).
If I move the control surfaces, then I am able to see the control surfaces responding accordingly without issues initially. However after an inconsistent amount of time while moving the joystick, the autopilot reboots and I get the following message on my terminal (see screenshot) telling me that the SSH connection has been lost.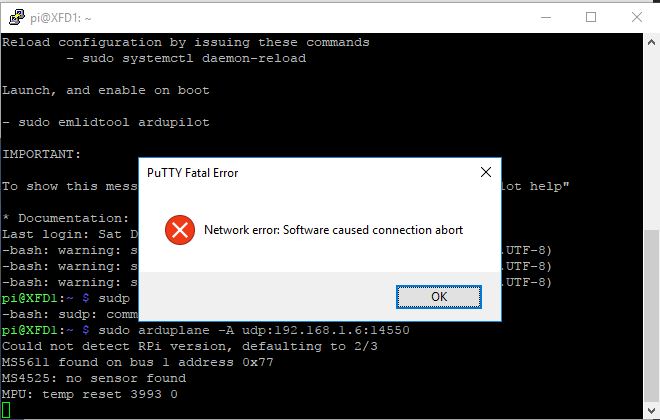 I have tested this over the RFD900u modems as well and I have experienced the same issue there as well.
The reason I believe that this may be a power related issue is because, when I have the Raspberry Pi's official power supply connected I have not been able to see replicate this issue. However when the power is through the NAVIO2 board's power port or through the Servo Rail I can see this issue happening.
The battery is new this is its first discharge cycle. Mutlimeter reading says that the battery is at 7.8V.
The power port on the NAVIO2 read 5.32V.
The ESC/BEC's connection to the servo rail reads a potential difference of 5.42V between its red and brown wires.
My obvious issue here is that until I can get the reboot issue sorted I won't be able to fly and secondly I can't seem to predict when it'll happen after I've met the necessary set up prerequisites to force the issue to happen.
Therefore if you could provide any help then it would be of great help to me.
Thanks
JD