Hi everyone!
Meet the long-awaited feature in Emlid Flow. Survey plan now supports localization. It's helpful when you don't have the precise parameters of the local coordinate system your project should conform to, but you have the known points in that CS. Just measure these points with Reach and apply localization in Emlid Flow.
You can add 2 or more points with horizontal, vertical, or both coordinates. The app chooses the calibration algorithm that provides the best accuracy. The workflow is straightforward.
Add control points:
Create a project and choose your CS and vertical datum.
Add pairs of Control points (in local CS) and Measured points. Import them or enter manually.
Choose Add localization.
Review the results:
All residuals are placed on a single screen. If they don't match your requirements, turn on/off horizontal, vertical, or both coordinates for each pair. The residuals will be recalculated in real-time.
Preview the parameters of the resulting coordinate system and apply it to the project. Your existing points will be recalculated as well.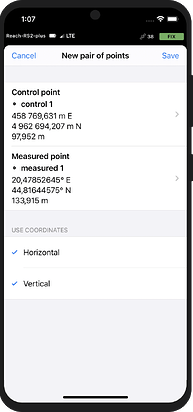 .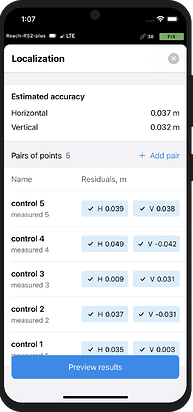 Explore the detailed guide in our Docs.
Try the localization feature with the free 30-day subscription to Survey Plan.