How to save measured points in Reach 3 to the tablet, like Reachview always do?
I want to SAVE, not SHARE. SHARE option is the only in my tablet and Reach 3 !
The video shows instruktions in 1 sekund, so it is to fast, but I only see SHARE symbols and noting more, I need SAVE option like in ReachView.
I don't see a "Share" symbol at all? Once you click the 3-dot menu select Export and this will allow you to save a CSV. Hopefully someone else will understand more clearly.
But the data is saved in the tablet by default. I don't understand your problem. Maybe you missed the fact that RV3 automatically saves the survey points to the tablet, while RV2 didn't?
I need to transfer all points to SBG GEO program, so I must find the the file in the tablet!
Oh I see now. You just need to pick which program is going to transmit the file. Email it to yourself or upload it to cloud storage.
I have all my data stored on my OneDrive so I just select it and upload. Then it is available on my PC.
With Reachview one save all files on the tablet! Why stop doing that now !
I have no simcard n the tablet!
What kind of tablet? Maybe get a USB drive adapter or hotspot the tablet from your phone. We hotspot all of our equipment from a single MiFi devices.
It is a Samsung SM-360 and Ihave used USB all the time,but I need to find the file and its place!
You should be able to export the CSV directly to the USB through your file manager/explorer.
With Reachview you export the file to Downloaded files, but where to find the files now?
That is going to be specific to your device. It sounds like the file manager you have is not very easy to work with. I would download EZ File Manager. It is much easier to find things when exporting and sharing. You can go directly to the USB from there as well so you should be able to save right to it.
I can confirm, this is not a problem on Emlid's side. In order to export my surveys to a particular folder in my Motorola phone, I had to install a third party file explorer. Then that particular app appears in the list to which I can now export. I use CX File Explorer.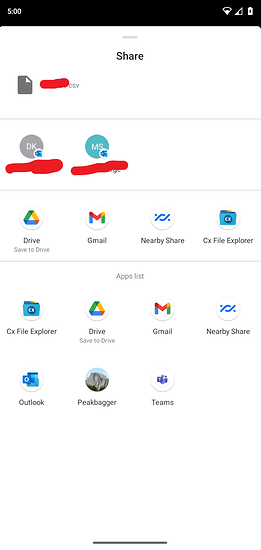 I have installed File Manager now. but where to find the Rech 3 mesured files?
Reach view files are visable in download, but not Reach 3!
From the screen in your screeshot:
tap on the … button for your survey
tap export
tap csv
find your file manager in the share to apps list
If you are looking for a dedicated Reachview folder you will not find one. The purpose of the better file manager is either to save to downloads, a folder you create, email or cloud storage. Is there a reason these won't work?
Hi Jan-Olov,
I just want to confirm that the way files are saved is specific to the mobile device. So, it can hardly be changed from the ReachView 3 side.
To get the data, you can send it to yourself via email or Google Drive. If you need to save the data to a folder, it should be possible to do it with another file manager, as Michael and Gabriel suggested.