Finally got the Qx1 to output a external trigger.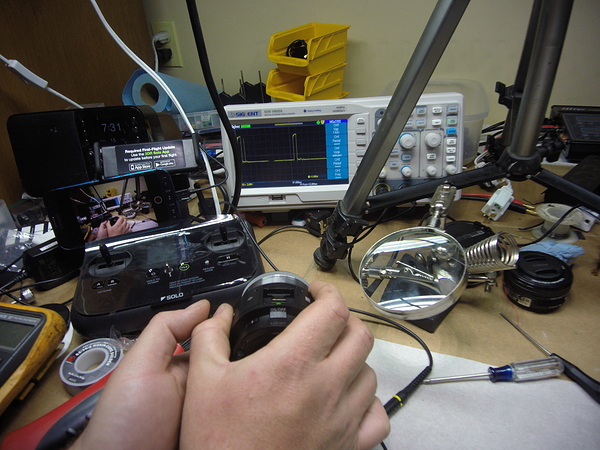 I had hoped for a easier solution but we ended up with two wires coming from the shutter motor. This photo shows the Qx1 being manually trigger and the oscilloscope shows the shutter motor voltage. This needs to be tuned in and will be used to signal the Reach GPS tracker. Happy surveying.
We are not done yet. Some final tuning, testing and adding a small plug to the case of the Qx1.
This is a harder hack as some disassembly is required and you could ruin your camera. The motor is buried. Once we get the details worked out my cousin will consider doing it for a cost as a professional electronic service in the range of $150. If you don't care if your camera breaks he might do it for $100. It takes about two hours with someone highly skilled in the small details. More than me and I am a major tinker, hacker and builder. You will need to solder two small wires on the back of a small header connector without making contact to adjoining pins. A very small low powered iron is needed.
I did I discover.
The multi USB ports has no accomodating output for external flash.
We can get a pickup from the Qx1 flash's primary coil. I disconnected the flash itself so the capacitor would stay charged so the camera is never delayed until the cap is recharged. This is still an alternative to someone not comfortable taking apart a camera.
Now forgive me but I have been calling this an external trigger as in a output from the camera. This is a non delayed output as the signal is being generated directly from the shutter motor being energized.
Questions about the Reach
What is the input specifications? I know we need 3.1 volts for a input .
Is it optically isolated?
What is the max input voltage allowed.
What is the min to max duration for input
Our 1st test has the signal at 8vdc for 50ms.
When can I get one to test on the Solo. We recorded the whole tear down but have not checked the quality of it. If time frees up I could post something.
Burke