I am having trouble getting Applanix PosPac & YellowScan CloudStation to accept my .23O file and the .csv file with my GCPs. I read in the forums it might be because Emlid Flow doesn't log data on even seconds so I imported my .23O file into Emlid Studio and then exported it with the "Time rounding (required for OPUS and other third party services)" option checked. Next I read about there possibly being an issue with missing leap second info? I'm not sure if this is the case or not, but if so, I need to know how to add leap second info?
In any case, it looks to me like my original .23O might have been recorded in even seconds after all?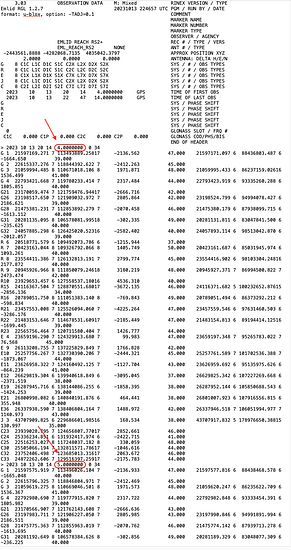 Unfortunately, when I try to process my lidar data in Applanix PosPac and YellowScan CloudStation it says there's no overlap between my Area of Interest and the .csv file with my GCPs. I really do need to be able to use the .23O file from my Emlid Reach RS2+ and the GCPs I recorded with my rover.
If I use data from my local CORS station instead of my Emlid Reach RS2+ and don't incorporate my GCPs the processing completes, but with less accuracy than I need.
Thank You in advance for any help on this issue!