Hi everyone!
We have released Emlid Caster Pro—a helpful solution for those who have several base stations and want to sell access to them to other users. An enterprise version of Emlid NTRIP Caster can connect dozens of base stations with up to 1000 rovers. Get Emlid Caster Pro to run your RTK network of multiple bases and sell access to GNSS corrections for your clients.
Get Full Control of Your Network
Emlid entirely maintains Emlid Caster Pro in the cloud infrastructure, so you don't need to administer servers or worry about installing updates.
With Emlid Caster Pro, you can quickly manage your network settings: add new base stations, block or unblock clients' access, limit the number of rovers your clients can connect, check the online status for operating bases, and clients' rovers.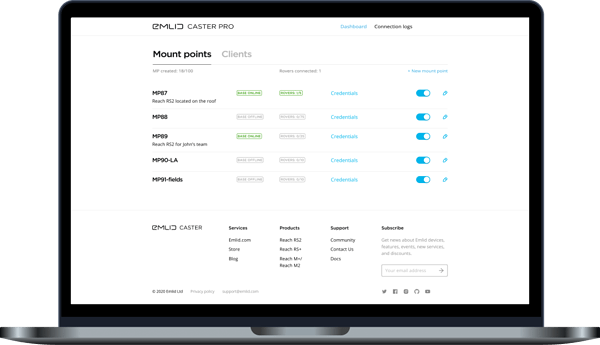 Emlid Caster Pro interface
Ease a Workflow for Your Clients
To access your network, your clients can use the Emlid Caster website with your custom domain name. New clients just need to sign up to get the mount point credentials immediately.
The caster automatically offers your customers the nearest mount point to connect it to the closest base station available.
Get Emlid Caster Pro for Free
Choose one of the Emlid Caster Pro tiers depending on the number of base stations you have:
up to 20 bases—for $199 per month
up to 50 bases—for $399 per month
unlimited numbers of bases—customized option on demand.
For all the tiers, you can get a free 1-month trial. Simply submit your request on our site, and we will contact you shortly.