can you clarify on position accuracy of a point 60km away. is it still in 2-3 cm in accuracy? or do we take into consideration the published accuracy of the unit which is about 14mm + 1 PPM which comes out to ~~8cm if my math is correct.
Hi,
maybe you can add a translation to legacy rtcm3 messages in the caster?
See here for more info

Thanks!
Hey Juan,
The accuracy of RTK receivers does not really depend on the type of correction link (as long as the link is properly configured), but the distance between the receivers matters.
Basically for the corrections to work well, the receivers need to be under the same part of the sky. That way they are both affected by the same signal delays in the atmosphere. The further the receivers are from each other, the more different the conditions will be for them and that leads to the corrections being less effective.
So yeah, we do have to take the published accuracy into consideration.
which is about 14mm + 1 PPM which comes out to ~~8cm if my math is correct.
That's about right, except 14mm is our vertical accuracy. As per our docs, the horizontal accuracy is 7mm + 1 ppm, which should come to 67 mm for 60 km baseline.
Edited the post to correct a wrong statement.
Hey @ankrila,
Sorry for the late reply. We are currently considering many different ways to expand the Caster's functionality. It would help us a lot if you answered the questions in our user survey, if you didn't already.
If you have more ideas or requests, you can PM me at any time.
Thanks.
Hi there!
I am trying to use caster.emlid.com here in Albania but I am facing this situation: while I am connected to the mount point, baseline shows 0.0m.
Screenshots;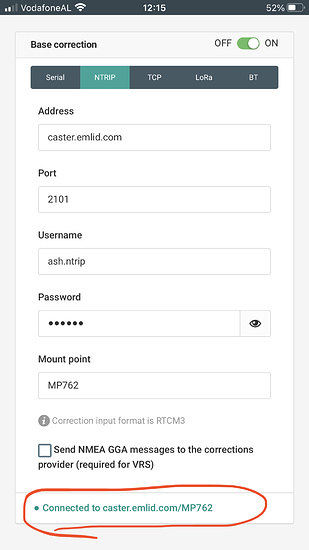 Am I doing it correctly?
Thank you!
The age of differential is 58 sec and that means that the rover doesn't receive the corrections.
Maybe something is wrong with your setup. Does your rover have access to internet?
Yes it does. It works perfectly with local ntrip.
When i change settings to caster.emlid.com, it shows float.
Whatever i just wanted to try it.
Its not a problem for me.
Same here (North of Germany). The Emlid Caster do not work. Maybe it is too far away?
Hi @ASH and @Nordstern,
Could you please share the Base mode tab screenshots from your bases? It'll help us check if all of the configurations are okay there.
Hey @Nordstern,
I think it's important to note that Emlid Caster is not a correction service. It's a convenient way to pass corrections from one of your receivers to another. So in order for it to work, you'll need a receiver that will act as a base.
That's the point. Thank you for clearifying that.
Hey @egor.fedorov
Why am I getting a "401 Unauthorized" on the connection with the caster?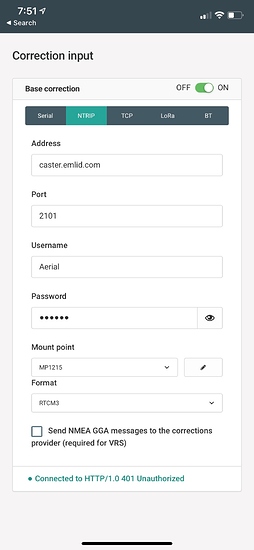 James,
Unauthorized should mean that there is something wrong with the credentials. Please double check you've entered your username and password correctly. Maybe there's something wrong with capitalization?
I was logging in incorrectly, into the "Correction input" instead of the Base mode. Thank you for the help.
I want to report that i have try emlid caster, and it just work nice for me,
I use it with RS 2 last week and also at first time with RS+ couple weeks ago.
EMLID… i love you😂
Thank you for your kind words. We are happy to know the Caster works for you

Hello Egor,
The caster is amazing!
I have a question regarding the use of a Reach receiver to send corrections to a DJI drone (I mentioned it in another post but I am not able to cite it here).
My idea was to use the caster in order to send corrections from a Reach RS+ to a "DJI Phantom 4 RTK" drone. The drone properly connects to the caster as rover but it doesn't correct its position. It simply remains in a single status without seeing any satellite from the base.
So I ask to you: is not possible to do RTK positioning of a double freq. receiver (onboard Phantom 4 RTK) broadcasting corrections from a single freq. receiver (Reach RS+) ?