Are you talking about port forwarding ?
Not necessarily. Package loss comes to mind. It all depends on your gear. Old gear (router) could be a pain in the xxx.
My reach App interface looks totally different. What software is this?
This is Reachview Beta version 2.1.6

Cool, I assume Reach has to be reflashed with this, but where do I dl the ReachView from?
I tried using rtk2go.com last night instead of my own ntrip caster. Worked great! Extremely simple to set up. Thanks for the tip!
Thank you so much , i was looking for something like that for my work, I'll try it soon.
I don't have a LTE router, do you think a share connection from cell phone work?
Anyway i'll try and post my results ! thank !

BTW http://www.rtk2go.com/ seems to not work properly. does someone can reach (

) the website?
Can't seem to get this running even with the help of your step by step guide

Base config: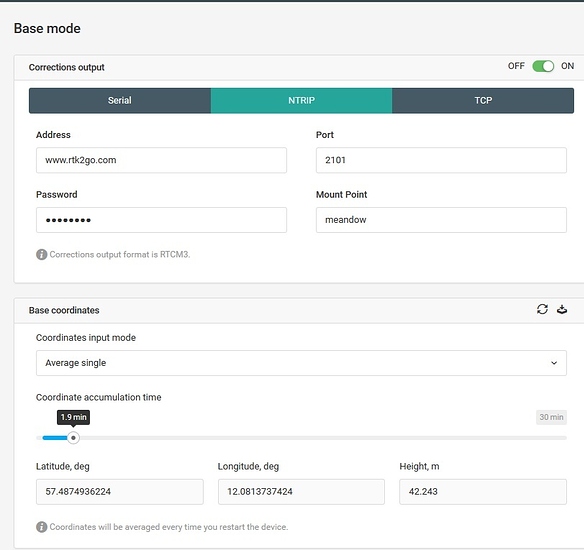 Rover config: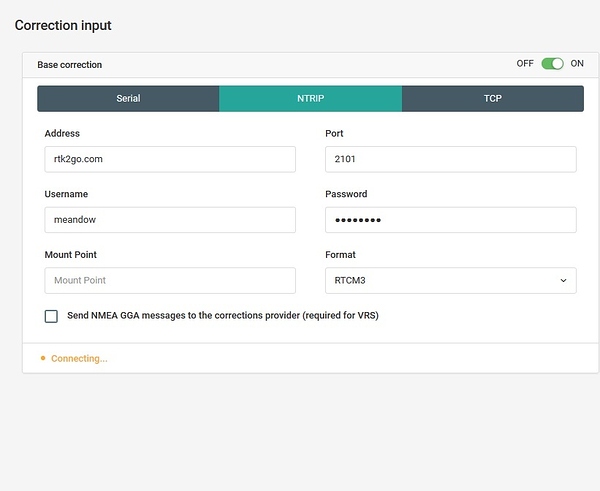 For some reason the rover is just stuck on "connecting", regardless of what I set mountpoint/password to (atm it's meandow/BETATEST).
They're both on the same WIFI as my computer and the connection to rtk2go works fine on here. Any ideas on what it could be?
cheers!
Other then mount point is not filled, i know there could be some hassel to add credentials in the right order.
I hade some issues if adress was filled in before the mountpoint or the other way…
But you should get a dropdown menu when www.rtk2go.com is filled first, and then be able to select your point.
Tried adding only address and port but still no dropdown (on the module that was configured as base). Am I supposed to enter "BETATEST" as password? Can't seem to save it without a username though.
Dropdown happens on the rover.
BETATEST is the word yes
Username is the same as mountpoint
Yep, meant that I turned off base mode and configured it as rover (to get a clean slate). Feel like I have tried every configuration possible and added them in different orders but guess I must've missed something.
Have you tried it on the latest version btw?
As @TB_RTK, I also have dropout menu when fill Address with rtk2go.com and Port with 2101.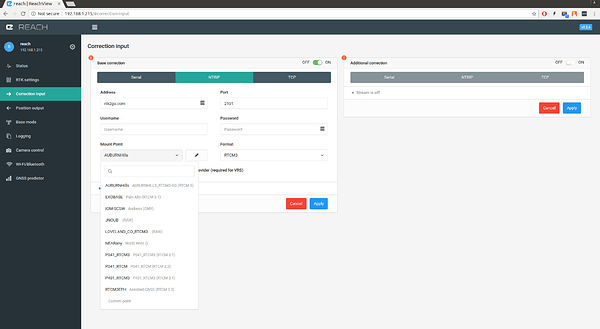 What ReachView version do you have?
This should "possibly??" go under bug alerts. I occasionally experience that there is no dropdown menu. I haven't determined just when. But if I enter a custom ntrip address I will sometimes not be able to get dropdown menu again.
I think that I have found cause of the bug. Issue RCH-593 is opened.
At the moment, I can advice you to follow next steps to get dropdown menu.
Try to change Port to any - Press Apply - Change Port to the right one.
After that you should see dropdown menu.
Write here if it helps, please.
It does work now but I am not 100% sure what the fix was, I just removed and re-entered everything a couple of times and it randomly connected last night (it was before I read your reply so that might've been the solution, I am not sure).
Cheers for the help!
I tried and it worked for 2 days but now it did not work. The server maybe down. Emlid should provide this NTRIP caster to its Reach/Reach RS customers.
Could you please share your experience how to setup your own ntrip caster? Thanks