I have been having a heck of struggle getting Applanix PosPac and YellowScan CloudStation to accept my GCPs recorded with my RS2+. Each time I try to run Strip Adjustment, I get a No Overlap error between my Area of Interest and my GCPs.
The one time I was able to get Strip Adjustment to run successfully was when I was using GCPs that were recorded by a local surveyor using a Trimble receiver.
I need to learn how to "process" my .CSV files from my Survey Projects in Emlid Studio so my GCPs are OPUS level accurate. If I am able to do this I think I will be able to get Strip Adjustment in YellowScan CloudStation to work. I really hope this is possible? Is Stop & Go the right way to go about this? As far as I can tell, it's the only function in Emlid Studio that outputs a .CSV file?
Thank You!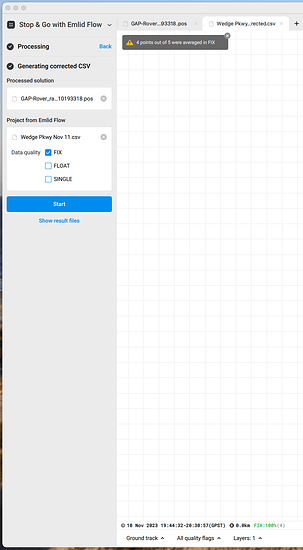 This .CSV file from Emlid Studio that says corrected in the title resulted in a No Overlap Error in YS CloudStation