I set up two static Reachs, base and rover, both logging raw data at 1Hz for 24 hours, which I then converted to RINEX and post-processed using the command-line versions of the rtklib tools (in fact the 'demo5 b29a' custom version from rtkexplorer.com). Results are excellent: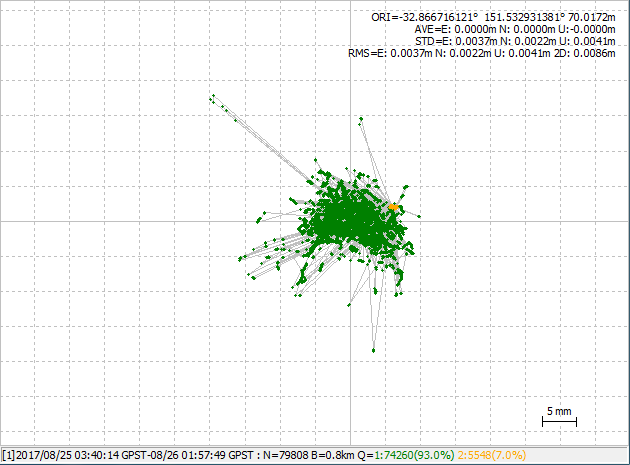 But 24 hours at 1Hz is a lot of data. Just out of curiosity I wondered if decimating the data would still give acceptable results but with decreased file sizes and processing time. First I tried using the -ti flag on convbin.exe with a value of 30, to drop the epoch interval from 1s to 30s. Total failure. No obs file was produced from the base's raw data (but curiously it worked fine for the rover). I've no idea why this didn't work.
So then I tried a two-step approach: run convbin as normal but then decimate the obs file itself using teqc.exe with '-O.int 1 -O.dec 30'. This seemed to work: both the resulting obs files contained 24 hours of data at 30s intervals. However, post-processing these files gives much worse results than the undecimated data: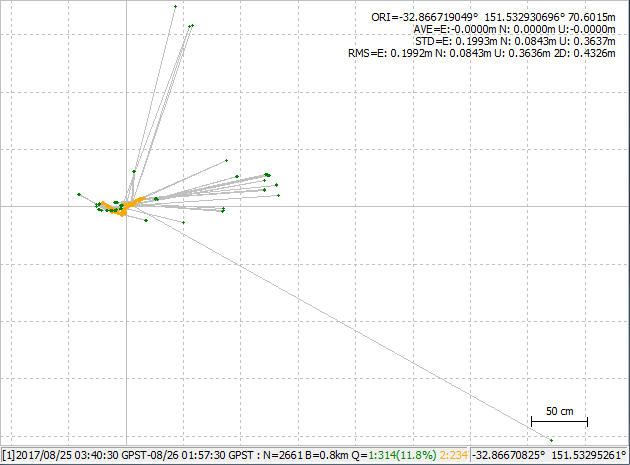 There are now only 12% fix solutions, compared to 93% for the undecimated data. There are outliers that are metres away.
Why should decimating the RINEX data lead to such a serious degradation in overall solution quality? I was expecting to see roughly the same result but with 1/30th the number of points! What am I missing?
My decimated and undecimated data is available at https://www.dropbox.com/s/ctqhfnf0mfuex4h/Decimation.zip?dl=0. The zip file also contains the .conf file that I am passing to rnx2rtkp.exe.