Hi,
I have set up a rover and a base with the beta version 2.1.6r
I am not sure if this is a version issue, or if it is a fault, but would like to report this as my issue in a hope that someone can help me.
I have a requirement to use the USB-PC function to output NMEA strings for my application.
First Question
Once the rover is set up and running, I notice that on the status screen, that it is displaying lots of satellites, but there is no result in the "Position" area and no other data displayed. I will add that every now and then, the "Position" section is populated for a second or 2 but then it returns to a blank result again.
Why is this happening?

Second Question
This might be related to the first question, but while the GPS coordinates are not displaying in the "status", "Position" area, the output to my PC is not receiving a result either. It only seems to output to my PC if the data is available in the "status", "Position" area only.
These are the settings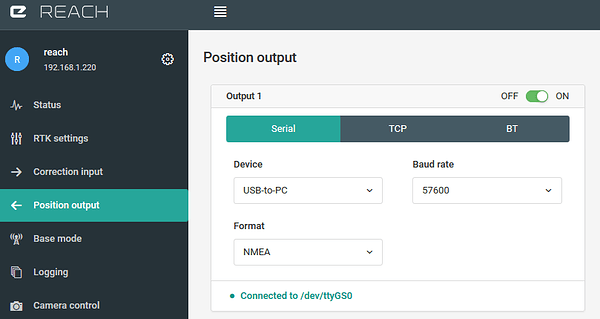 For my application, I need a constant output of the NMEA string no matter what the resolution. (single, float or fix) As long as there are enough satellites, I need the output from the reachGPS.
Can someone please help me with some suggestions on how I can achieve this?
Kind Regards
Cameron