We are using Reach RTK (not RS) kit with 2 modules, one acts as a base. While usually everything works well, sometimes the signal quality drops. And after that, it doesn't recover from that. Usually a restart is needed (or once we even skipped for that day and tried again the next day). Here is one picture: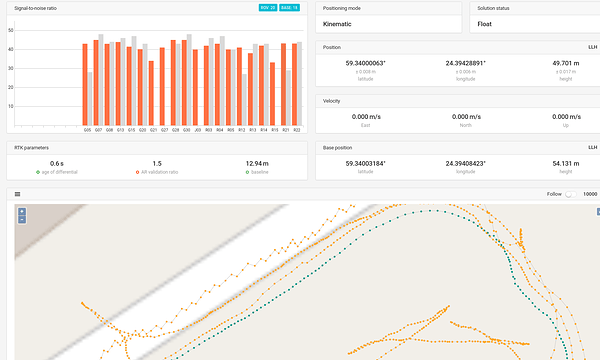 You see the signal-to-noise ratio. Usually there are at least few green bars.
Below you see the history of points. While most of the day the signal was good (the green dots indicating the FIX) - you can see the path is quite linear, there is one jagged line. This is the results we are getting at that point. And it didn't recover after 10 minutes.
Any suggestions, how we could get the signal better? We are using the antennas provided with the modules. Is there an option to buy a better antennas? Also, the cable from antenna to the module is about 3 meters (we use one extension cable). But then again, we have a fix status for about 20% of time. The rest of the time it's float, but it's still quite ok. This jagged behavior is bad.
Thanks for any suggestion!