Hi everyone!
First of all, I'm using EMLID RS2. I use the GNSS for making a BENCHMARK. When I post processing data from UBX to RINEX, the format of RINEX data is .23o.
My question is, what is the different RINEX data .22o and .23o?
Because when I use gnss emlid rs2 my friend has it, the RINEX data is .22o.
This is data from my friend


and this is mine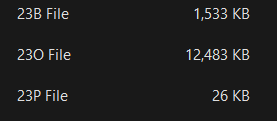 Thank you, but I'm sorry if my language so bad