When I went to enter my first HI this morning for the RX in Emlid Flow v8.6 for Android, I found this disturbing illustration: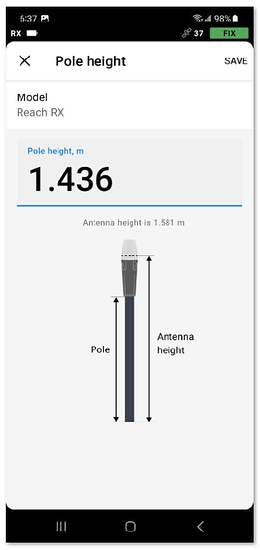 Then I started searching this forum only to see that I'm not alone in being concerned about the "antenna height". So many posts on this subject and they appear to not be limited to the RX by any means.
Antenna calibration services such as Geoscience Australia, Geo++, NGS are provided to GNSS antenna manufacturers involving rigorous testing resulting in very precise measurements of the antenna's various and multiple phase center variations and offsets from which all relate to 1) the true north reference point and 2) the antenna reference point (ARP) for any given particular antenna make and model.
The height of the instrument, or HI, is an old school term dating back long before GNSS, but in the context of GNSS surveying, is immediately understood to be the ARP. Surveyors are trained to be hyper aware of their HI because they know of the consequences from getting a wrong HI.
Why on Earth is the Emlid Flow illustration:
not appropriately labeling the ARP?, and
why should we be shown "antenna height" in the first place?