In brief, here's the google earth overlay. Ignore the image's marked field lines, which are obviously wonky (and 3 years ago), and that google imagery isn't always located very well (although the permanent 0m and 100m lines, and shotput waypoints seem perfect…). The important point is that I marked the points at the intersections of the field lines, which are where I turned and walked across the field, yet it appears all my waypoints are about 1.5m south of these intersections. It also appears the waypoints don't line up with where I stood for a minute collecting the points.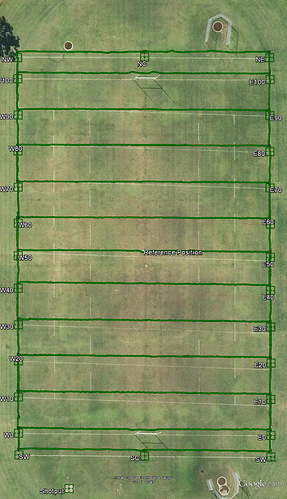 In detail:
I walked an RTK survey today of a local sports field. I created a survey and marked points along the boundary lines, at their intersecting meter lines. I had fix the entire time, using all satellites other than Glonass (30 satellites!

), and a local reach radio base station in the centre of the field that I located using 10 minutes of fix from a NTRIP station 65km south. The survey points were taken during the same time period as I walked the perimeter of the field, then I walked the horizontal tracks of the lines (in the same log file)
At first I assumed the icons weren't indicating the actual position, however the waypoint latitude and longitude don't line up with the mouse-over lat,lon of the intersections either. I then assumed maybe it was a projection error, but everything is set to WGS84/EPSG:4326. I don't think I've done anything silly like including an offset during kml generation, etc.
Reach 2.8, RTK tools b27, reach (non-rs) rtk kit.
Here are my logfiles if needed:Oval-GeoJSON.zip (2.5 KB)
base_201709070705_RTCM3.zip (2.7 MB)
raw_201709070705_UBX.zip (9.4 MB)
I cut the first few minutes of the rover log in my kml to remove walking to the start position and setting up.
Also, I noticed the single solution plot is pretty good, just thought I'd show it off. I postprocessed the same log without base corrections: Blue is dgps, red is single.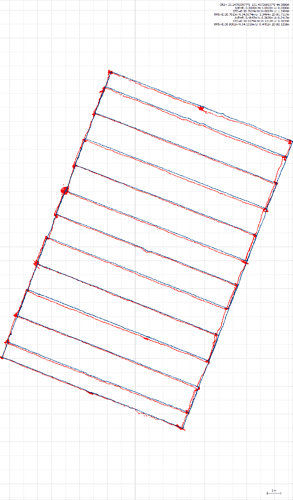 So TL:DR is, does anyone know why survey points don't line up with logged tracks? Should I trust the survey points, or the track? Can I better process the logs to fit the surveyed points better in the future?
Thanks for your time.