I am seeing drift in fix positions when my rover is static. This is processed in RTKLib against a Leica base station RINEX. The Reach was static for about 20 minutes and the XY positions show a drift in the order of a metre with fix solutions. The Z is (almost) acceptable in terms of stability). See attached plot.
I am using a new Reach M+ which wasfired up for the first time and updated a couple of weeks ago (sorry, I don't have it to hand to post the reachview version but I assume it is the latest).
The antenna (shipped with M+) is on a 100mm aluminium base plane on a mast on a quadrotor drone (all switched off during test - see photo). Interestingly I didn't see drift when I tried last week in almost the same location with the antenna not attached to the drone (or base plane).
I've tried fiddling with config parameters and get varying proportions Q1, but whenever I get fix solutions I see the drift. Interestingly, when the values only achieve float the drift is less pronounced/non-existent but, as expected, there is more 'noise'.
I attach the log files and the config I'm using in RTKLib.
Any suggestions or help would be greatly appreciated, since 1m drift over 20 minutes might not be noticeable in a moving survey but would definitely ruin the results.
raw_201810011519.nav (21.6 KB)
raw_201810011519.pos (581.7 KB)
raw_201810011519.obs (6.6 MB)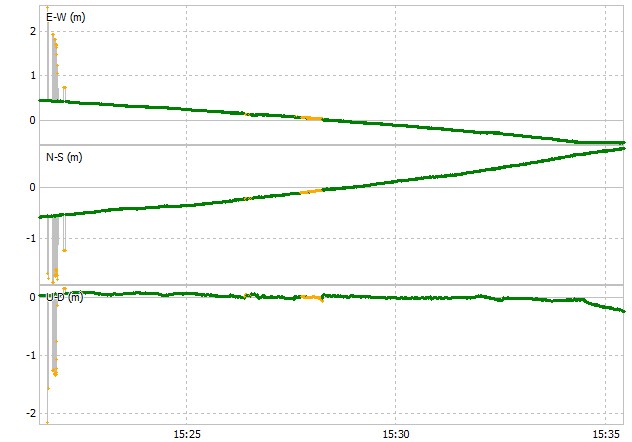 Config_921_WithXYdrift.zip (1.6 KB)
1407274p18.zip (4.5 MB)
SystemReport.zip (105.5 KB)