This is an example of proper and minimum format
index,name,longitude,latitude,elevation
1,p1,5.08473495775,60.2753790317,51.099425

Import:
1.Create or open an existing survey project in Reachview

2.Navigat to import from the menu in survey mode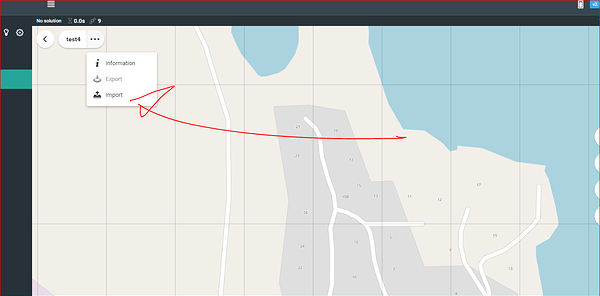 3.And final, browse to where your file is located and select open.
And I have doubts here. Should we use the order yx instead of xy?

Hola.
Te recomiendo que lo hagas lo más simple posible, cómo viene en el ejemplo de reachview.
Hasta arriba de tus puntos coloca: name,longitude,latitude,elevation
Igual te recomiendo quitar la columna de las "r".
Si recuerdo a "elevation" siempre debes de darle un valor incluso después del punto decimal, ejemplo; 2213.45
Literalmente lo que yo hago en lugar de crear un archivo en bloc de notas es, simplemente seleccionar y copiar todo el texto de "bloc de notas" y pegar en reach view en la opción "paste text".

Espero y te sirva de algo.
Saludos.
Gracias !!! He probado de todas maneras sacando la r (atributo replanteo) nunca uso la Cota porque replanteo solo en el plano.
Si debo poner cota en la base si o si, estoy acostumbrado al Promark 3 rtk.
Lo que no probé es hacer el paste
Ya lo voy a probar, no sé si no me reconoce el csv.
Gracias
Hola.
Yo igual replanteo en plano pero la elevación debe de tener algún valor, lo que hago es sacar un aprox. de google maps para no complicarme.
Saludos
Lo pruebo y te comento.
Yo en el Fast Survey siempre use Cota cero para que no me diera la diferencia en la Cota en el replanteo, seguro que aquí hay que poner una cota .
Abrazo
Guys, please keep it to English, so everyone can participate in the sharing of knowledge.
This topic was automatically closed 100 days after the last reply. New replies are no longer allowed.