For a few years I have been making custom topographical maps of a mountainous area, in a remote part of Québec, of which I am particularly affectionate. Unfortunately, the large institutional lidar campaigns stop literally at the foot of those mountains, so we are stuck with digital elevation models based on decades old photogrammetry. Generally, the data is good enough, but when combined with features I want on my maps, like reinterpolated contour lines to metric, it means there is often a disconnect between the true peak elevations and the last closed contours.
This is why I started considering measuring the peaks and using that data to readjust the DEMs when I have enough coverage for the sector - it will take a while for a solo guy with no budget doing everything on foot. The work will not necessarily be in vain as these measurements could be used as checkpoints if there is ever a lidar survey over the area. Plus I get to do some great backcountry trips, so I don't mind the chore.
I planned a solo point-to-point traverse in the western part of the massif, closer to the road, over 4 or 5 days. I already knew the area so it wasn't too difficult to plan the route.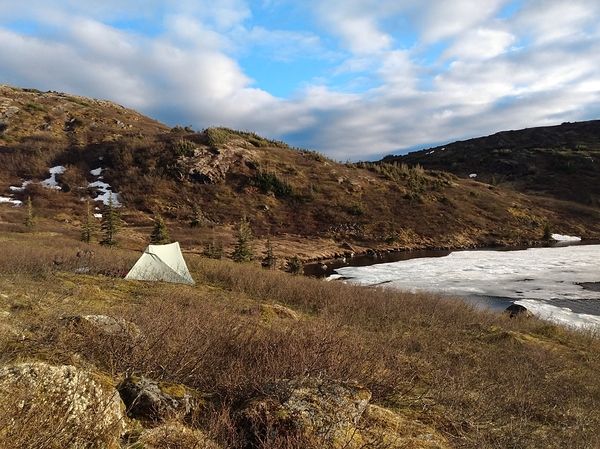 To make the project easier, I tried to minimize the equipment weight and volume:
Tripod - I designed and printed a collar that can be used on a surveying pole to create a lightweight but stable tripod analog. It includes an adjustable levelling bubble and three ultra-low stretch dacron guylines long enough to find suitable ground to stake in or rocks to sling around. I chose a 1.8m 4-piece pole, of which I brought only two sections as the summits would be perfect skyviews anyway.
Antenna - I went for the Harxon GPS1000. It's relatively compact and inexpensive.
Receiver - Of course, to save weight, I went for the M2 as I don't need a radio, a GSM modem, or the other fancy options of the RS2. That and I also have a limited budget.
Power - I chose the Anker A1263. It's perfect for the GNSS application, but also enables me to charge other devices, like headlamp, phone, and AA batteries for my handheld GPS.
The route:
Hike in to the plateau and survey as many peaks as possible while moving north back to the road.
At the same time, I wanted to scout the way to the central part of the massif for a future trip.
Test some lightweight hiking gear for an unrelated trip later this summer
The schedule:
To make the most of the time I had, I initially thought I could spend two hours on each summit.
Since I was going to be so far away from any CORS, I already planned on post-processing through NRCAN's PPP. The receiver was thus set for GPS+GLO at 1Hz (but it could have been a 30s sample rate).
Considering my goal was to adjust very coarse rasters, or eventually serve as checkpoints for airborne lidar, I didn't plan for millimeter precision.
Results:
After spending some time on the first summit, it was clear spending two hours on each summit would not be fun. It was breezy and cool and finding shelter was a lost cause so I decided to reduce occupation time to 1 hour. It would be enough for the precision I need anyway. So back home, I sent everything through to the PPP and some very interesting results came back:
| Point | Obs. Time | σX (m) | σY (m) | σZ (m) | AR (%) |
| --- | --- | --- | --- | --- | --- |
| PROV | 1:19:00 | 0.081 | 0.047 | 0.087 | 0 |
| GOEL | 1:01:00 | 0.010 | 0.014 | 0.047 | 84.79 |
| OXYR | 1:01:00 | 0.011 | 0.017 | 0.041 | 96.18 |
| VEYR | 1:00:00 | 0.013 | 0.023 | 0.058 | 92.61 |
| JASE | 1:00:30 | 0.011 | 0.015 | 0.046 | 87.73 |
| LAGO | 1:00:00 | 0.095 | 0.064 | 0.124 | 0 |
| TOUR | 1:00:00 | 0.011 | 0.012 | 0.064 | 76.87 |
PROV | June 12 | 1075.370m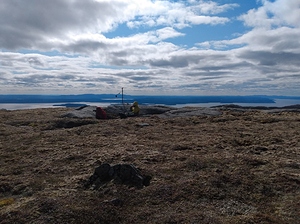 The first setup. I don't know why there were sparse cycle slips throughout, the ambiguities couldn't be resolved.
GOEL | June 13a | 1063.881m

The first morning was damn cold, the water in my bottles froze overnight.
OXYR | June 13b | 1084.559m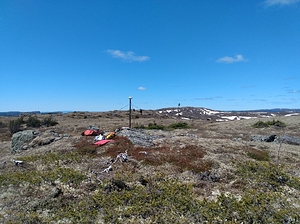 Perfect conditions, not too windy, clear sky.
VEYR | June 13c | 1105.742m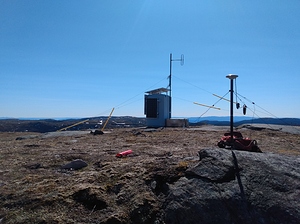 Slight obstructions from the radio repeater 20 meters away but otherwise good.
JASE | June 14a | 1013.353m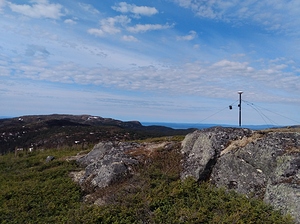 Good conditions but windy, I spent the hour tucked in the rocky nook behind some foliage.
LAGO | June 14b | 1053.089m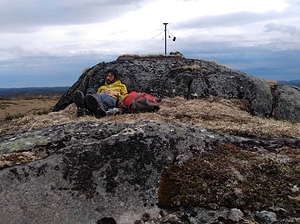 Much later in the day after a few hours hiking, the weather was shifting. A warm front showed itself during the hour on the summit with corresponding high winds that shook my tent half the next night before it started raining.
TOUR | June 15 | 1090.125m

The last morning, dead calm, but in a wet white-out. The clouds were condensing on everything so I had to protect the M2 with a silnylon bag.
Next steps
Finish designing the brackets to mount the M2 and battery pack on the pole with quick disconnects so they don't dangle in the wind from the guy lines.
Go back for a few more trips to measure summits further east.
Conclusion
All considered, using the M2 was a painless experience except for the time I had to spend shivering on unprotected summits. The entire setup is light enough that I was able to cover 60km on rough terrain over 4 days without too much effort. I still need to find a way to make it weatherproof, but I should be able to do some tests with flexible TPU 3D printing filaments this summer.