Hi,
I'm using following Hardware:
Navio2
Raspberry PI Model 3B+
EMAX 2213-935KV Brushless Motor
According to the setup guidance here, I've used the arrangement, as you see on the picture bellow(Servos 1 and 2 are CW and Servos 3 and 4 are CCW):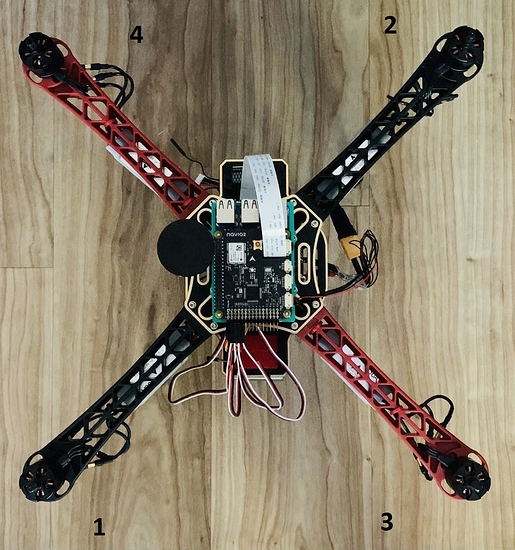 I used the provided Hardware Assembly, as it is available on Emlid setup page. the BEC Wire of the servo1 remains connected and the BEC wires of the other Servos have been cut as it was described in the official guidance to Hardware assembly of Navio2.
I've used Mission Planner 1.3.74 ArduCopter V4.0.3 to calibrate Accel, Compass and ESCs. The Calibration has been successfully done and the embedded LED on Navio2 board is blinking blue. Setting Throttle down to its Minimum position and pushing the stick to the right side (YAW) forces a solid blue LED, indicating arming the copter.
If the Throttle is being maximized to increase the rotation speed of the servo Motors, the copter is going to be tilted to a side and the copter does not flight stable vertically. I monitored the Servo Positions in ArduPilot and it looks as follows indicating on the Screenshot bellow: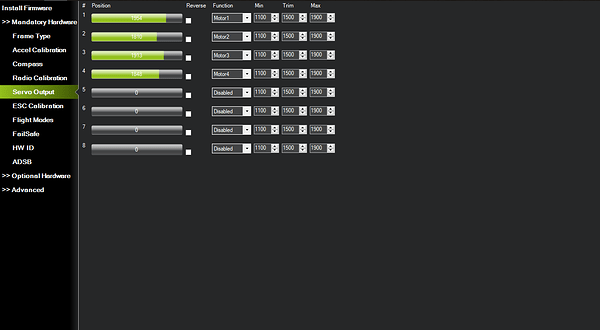 The throttle has been set on an unchanged position but after couple of minutes the servo 1 remains stable but servos 2, 3 and 4 clime down, especially the Servo number 2, as if the supply current would be dropping continuously with time.
How can this issue be fixed?
Kind Regards
Shervin