This is a S500 UAV build. From the list above the motors and ESCs are still from the original kickstarter project everything else as been replaced or added. Although that KS project was poorly managed I have no regrets backing it as it got me hooked on this technology and I have learnt a lot rebuilding it. My plan now is to build a more professional type of UAV, most likely a 600-700mm hex with retractable landing gear, 3 axis gimbal, 3DR pixhawk controller etc…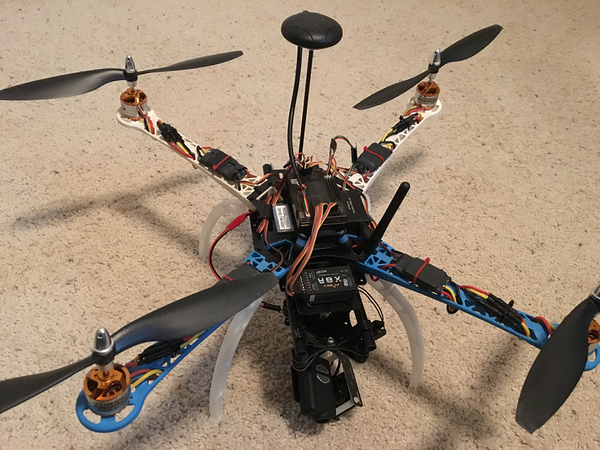 Materials:
Before build a UAV, we should prepare some materials for UAV, this is a important step, how to choose good UAV materials is very important, there is a list about my UAV materials.
Frame -
S500
(Hobbyking)
Flight Controller -
APM 2.6 + GPS and external compass
(3DR clone from Amazon)
FC anti-vibration mount (Amazon)
915 Mhz Telemetry ground and air modules (3DR clones from Amazon)
ESCs -
TATTU 30A BLHeli_S ESC
Motors -
Turnigy D2830/11 1000KV
Power distribution board - Hobbyking
Receiver - Frsky X8R from (Aloft Hobbies)
Transmitter - FrSky Taranis X9D (Aloft Hobbies) updated with OpenTX 2.x firmware.
Propellers -
Turnigy Slow Flyer 10x4.5 (Hobbyking)
Battery -
Tattu drone battery
, 3 cell, 20-30C,
2200mAh LiPo
(Gens Tattu)
Battery charger - IMAX B6AC Version 2 by SKYRC (Amazon)
Battery level sensor alarm (Hobbyking)
Tarot 2 axis gimbal and controller for a Mobius camera (Hobbyking)
Camera (Mobius Actioncam)
The concrete steps I didn't show them, it is too trouble and boring,
Update on my build
I thought I would provide an update on my build. I replaced the Turnigy D2830/111000KV motors with the following which I purchased on Amazon in a pack of 2 CCW and 2 CW. They are great motors for the price.
4 Emax MT2213 935KV ($52)
I also have added wireless video to the camera and ground station with the following also purchased from Amazon.
Eachine 700tvl ET200 5.8G 32CH 200mW FPV Transmitter ($22)
Eachine ER32 5.8G 32CH Wireless AV Mini FPV Receiver ($22)
Generic 7 inch TFT LCD Color 2 Video Input Car RearView Headrest Monitor ($24)
RC Buy360 High Quality 7 inch FPV LCD Monitor Sun Shade Hood for DJI Phantom Video FPV Ground Station ($9)
I am not using the above for FPV but simply to be able to monitor live video from the camera. I've mounted the monitor on an old camera tripod that I already had.
Replaced landing gear for a retractable set - HML680 from HK which are made of carbon fiber and so are incredible light but hopefully strong. My S500 frame looks a bit small on it though but I wanted to test it out first before moving to a larger hex frame. I know that the main reason to have retractable landing gear is to allow the camera to have an unobstructed view but I just thing they look great. My only concern is if it fails to deploy…