there is a problem there, the same thing happens to me
Hi Gabriel, Luis,
Thanks for the report! We'll address it.
May I ask you to clarify whether you work with Windows or Linux build?
we work with the version for windows
Hi Tatiana Windows 64 bits
Hey guys,
Let me update you on this. We're still working on fixing this issue with RTKPlot opening empty files. I'll inform you once we've fixed it.
Hello, Tatiana.
Is there any 'official' doccument that reports these implementations?
It could be good to cite on a scientific paper…
Hi Fabio,
Would you mind elaborating on what you mean by the official document? You can find all information about RTKLib functionality and options in RTKLib manual and on the RTKLib website.
Hello. What I mean is about the fact that EMLID's QT implementation did this: "The RTKLib version 2.4.3 Emlid b33 makes possible both single- and multi-frequency processing in one software. We also fixed a few minor issues reported by users and made some performance improvements."
Is there a report what has been done? What are the differences?! It could be nice to be cited on a scientific article, when using the EMLID'S implementation!
I agree, a news post with the chances just like with the versions update for ReachView
I noticed at glanse that the Settings2 changed some configs compared to 2.4.3 b28.
When i noticed the change i made a post process from a point that i was comparing with other users in this post and i saw a 30 cm difference from the same post process using version b28, using the exact same configs.
Hi,
I just started using RTKlib QT. After post-proccesing, when the POS file is generated I see less information than previous version RTKlib demo5 b31.
Is this information not present in Rtklib QT anymore? :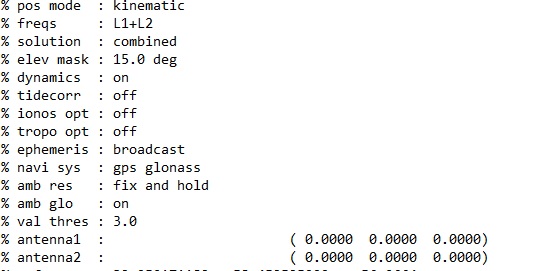 That info is useful when I compare post proccesing archives with different elev masks or other configurable options (GLO on, GLO off, Fix and Hold/Continuous).
EDIT: Solution: Under Options—> Output —> Proccesing Options —> ON
Hey there,
We'll consider creating a report with the significant changes made to the RTKLib. I'm afraid that at the moment, I can't share any specifics.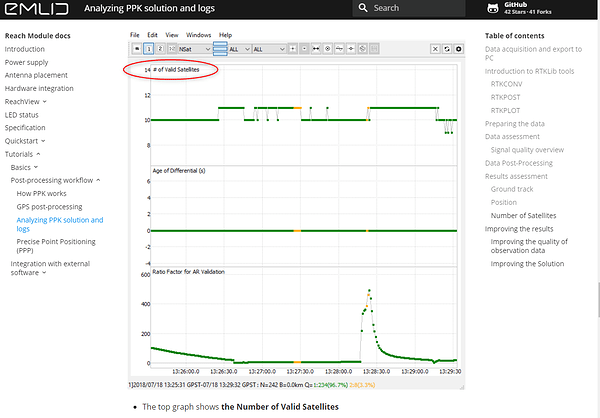 What marks the parameter "of Valid Satellites"?
Is this the number of satellites used to the calculation of the position?
Is this the number of common satellites in base and rover?
It's the number of sats that was in your solution.
Your SNR mask, Horizon mask, choice of constellations, base corrections etc decides this number.
Christian thanks for Your answer
This topic was automatically closed 100 days after the last reply. New replies are no longer allowed.
Hi there,
Just in case: now we have a new desktop application for post-processing! Emlid Studio has a user-friendly interface with only all the necessary settings depending on your goal. Don't hesitate to try it out and let us know how it works for you.