Hi. I have a new RS2, and yesterday I conducted some tests with Ntrip corrections. I had good results for first test and not so much for the second test.
Firmware version 2.22.2
Test 1. Survey on 2 random points in a open space with clear sky view. Used the same permanent station for the whole survey. Took the first point records for comparison. Perfect results!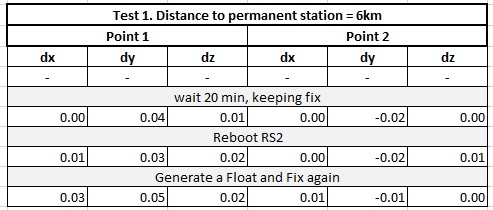 Test 2. Survey on a random point where I live, 53km from the nearest permanent station. During the test changed to a 86km permanent station to see what happened. Took the first point record for comparison.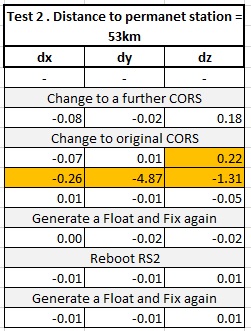 Some strange results, getting one fix that has 4.87m horizontal and 1.31m vertical difference from the others! obviously that is not a valid point, but it was Fix.
Conclusion: The test 1 was good, 6km from the base and all coordinates almost the same. Test 2 was at a larger distance from base and has one Fixed point with BIG differences.
Is there a way to improve this, or to know when I have a "false Fix"? I'm doing tests for now, but for the real world I need to trust 100% in the GPS. I´m evaluating this RS2 because I would like to get another one, but I'm not sure.
This happened 53km from the base anyway. For real surveying I'll be working no more than 10km, but I would like not having "Fix" when it's not.