Hi,
we are using a Reach RS2 and a Wingtra Drone with PPK System (Septentrio). After having initial Issues with the processing of the Emlid Data in the Wingtrahub I finally succeded but, I'm not convinced that what I did was correct. Just to be sure.
I have set the Base to "Static" RTK and it Receives Data vom NTRIP (SwiPos - SwissTopo). The Station is in Rover Mode. I have set it to Average Fix and let it settle for 5 Minutes until it locks the base coordinates. I assume those are then used for NTRIP as well.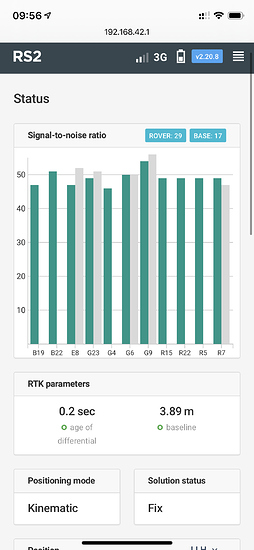 (Disregard the "KINEMATIC" it is now STATIC, this is an old image, just to illustrate the rest of the Data).
First Time Processing I configured the Base Location at its location where it was, during recording of the Flight. Das Processing File I have used the "Base Correction" Rinex 2.11 File. With this I got an offset of roughly 22m. I noticed that this was the amount I have moved the GNSS from Poweron to the location where it recorded during the flight. So for the second Processing I have removed the Station Location Setting and let the Processing Software use the first Location it finds in the file (I assume this is the Base Location which is shown with a bright green dot in the Map of the Status view).
Here is my log setting:
Question: Is this the right way to register PPK Data as Base? Is then Base Correction the Bases current Position Data (which is, as far as I understand, a Fusion of the current GNSS Signals & the NTRIP Data), or is in the Base Correction File just the NTRIP Data, so we could also skip using the GNSS on location?
The System is using the latest Software 2.20.8
Added:
I have noticed, that the virtual Base Station Coordinates differ from the absolute Coordinates the GNSS produces afterwards. I assume in order to have the initial GNSS Position which is then sent to the NTRIP Provider, only legacy GNSS (Single or Float Fix) is used. Once received the Position is calculated with the Data from NTRIP, correct? See attached Image (the GNSS was not moved after Power-On, light green the virtual Base Point from NTRIP, dark green current location. The Delta is about 1.2m):